My children's book White Fear tackles environmental fiction and activism through fiction.
Lily, Lesh, Hatty, Adnan and Kester are the Squad.  They have been summoned to the deadly and frozen land of the Arctic Circle by the British Prime Minister who has heard of their growing reputation as brilliant young spies.  An unknown criminal is trying to hijack a world conference about the precious and much fought-over fuels that lie below the arctic ice.   To prevent an international war breaking out, Lily, Lesh, Hatty, Adnan and Kester go undercover to find out who it is and stop them.
But the beauty of the icy mountains and deep fjords hide some dangerous secrets and someone will do anything to make sure that the Squad don't discover them . . .
Read the first chapter for free here.
Learn more about reading and writing The Squad with Literacy Resources here.
Watch the fantastic Squad : White Fear book film trailer, made by Cameron McTeare here.
Available from your local library, bookshops and Amazon and Kindle.
Published by Puffin Books.
Themes in White Fear – 1 Protecting the Environment
I am proud to be a signatory to the International Declaration on the Future of the Arctic.
White Fear was inspired by reports I read in newspapers about how quickly the Arctic ice is melting – and the numerous predicted catastrophes :
    the seas will rise

Source:International Boundaries Research Unit, Durham University www.durham.ac.uk/ibru/resources/arctic

    rare wildlife will die out
    communities that live in the Arctic will lose their way of life
    without the ice in place, the seabed is accessible and some countries will begin to drill for oil, gas and other valuable resources – AND that they will start to jostle for who owns which part of the sea bed.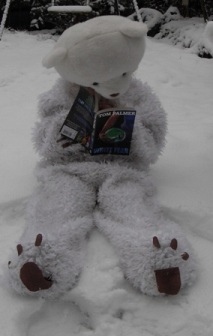 White Fear draws mostly on the last two threats.
It is set at a fictional conference of the Arctic Powers (Canada, Denmark, Finland, Iceland, Norway, Russia, Sweden and USA) in Tromso, Norway. These countries are trying, in a last chance to avoid war, to decide who owns which part of the seabed. But evil forces are at large. Forces that profit from war and oil exploitation. Forces that don't want peace.
The only way to avert war is for The Squad – five British child spies – to infiltrate the conference and stop the evil-doers. It involves mountain-top anxiety, abseiling, chases on ocean liners and even a submarine.
It also involves an ecological protest group made up of Inuit people – called White Fear – that is trying to make the Arctic Powers see sense and help reverse the ice melt.
Sadly, recent events have re-highlighted the problems the Arctic faces.
The Arctic ice is now at its smallest and thinnest since records began. The melt is accelerating year on year, meaning that some Arctic Powers are already exploring, looking for oil and gas and minerals. Not so long ago the Russians placed a Russian flag on the seabed, appearing to claim it for themselves.
Only very recently Greenpeace has been trying to prevent Russian drilling ships from searching for oil beneath that newly-exposed seabed, facing a very aggressive response from the Russians.
When I researched White Fear, I was on board a Norwegian ship, looking at the waters and land that the Arctic Powers are fighting over.
I hope this book does something to raise awareness in children about something that is vital to the future of our planet.
Daily update on the Arctic ice visit http://nsidc.org/arcticseaicenews/
News from Greenpeace's Save the Arctic campaign visit www.greenpeace.org.uk/.
Read my blogs about Climate Change week here and here.
Learn about my research trips here
Check out how I used my research to write Black Op and White Fear on my blog writing about Norway.
Themes in White Fear – 2  a character in a wheelchair
"Children's fiction has a huge lack of disabled characters, which means many children find they do not have characters that they can relate to in the books they read." Phoebe Kirk
It was really important to me to make a spy series believable and to stress the extreme risks the members of a child spy team would take.  Sadly, this meant from the outset – in Chapter 1 of Black Op – a character is killed in the field.  And in the sequel, White Fear, a character called Lesh has a terrible fall, but survives to stay on the Squad.  It was really important to me to demonstrate what an important contribution he continues to add to the team as a boy in a wheelchair. My dad spent a long time in a wheelchair, so it is something I've spent time thinking about.
Discover other children's books with characters who have a disability suggested by Scope here  and here  and here .
Real Reader Reviews
'Hi Tom your book called The Squad White Fear is great I love the way you made Lily like jump off the cliff to get to a cable car, when you made Frank Hawk hunt Kester and Lily it was cool and when Frank tricks them into thinking the detonator that was a scary part of the book. Is Tromso a real place? My name is Scott and… I LOVE YOUR BOOKS! ' Scott, Ysgol Esgob Morgan
"Tom Palmer books are usually extremely popular with my pupils at school, and this one will be no exception. It is the second book in the series 'The Squad', following the adventures of a group of teenage spies. They manage to stay undercover by being part of an elite youth football team that travel the world playing in matches and tournaments.
The book has sets off at a great pace and wastes little time in getting to the action. It is extremely current, as the group are involved in an adventure based around drilling for oil in the Arctic ocean. The characters of the children are varied enough to be interesting, and the main adult in the story is an archetypal evil genius (of sorts)…
Highly recommended. I have found Tom's previous books to be a perfect way in to reading for some of my more disengaged pupils, due to the links with sport and simple-to-read, fast paced style of the books. White Fear will continue that trend." Jonnybid
"What a great book! I am looking forward to White Fear and can't wait." Saad Siddiqui
Tell me here what you thought about White Fear.
Buy the books
The Squad 1 : Black Op Amazon
The Squad 2 : White Fear Amazon
PRIVACY & COOKIES POLICY                            TERMS & CONDITIONS