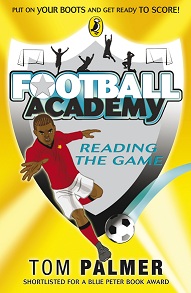 Book 4 in the Football Academy series.
Ben Blake is a genius right winger. He is really popular at United because he can always read exactly what his team mates are going to do on the pitch.
But he has a secret he has managed to hide from his teachers, his mum, everyone. He can't read.
When you are part of a football team you need to read letters and fill in forms, read team sheets. Ben has to try harder and harder to hide his secret – too ashamed to just ask for help. And that starts to put his place in the United team at risk.
Read the first chapter of Reading the Game here.
Watch me read from Reading the Game and ask quiz questions here.
Signed and dedicated copies of all my books are available personalised to order from my local independent children's bookshop "The Thoughtful Spot"here.
Here are the team at Peterborough United Football Club reading Football Academy Reading the Game …
Find out more about the other books in the Football Academy series here.
Find out more about Dyslexia here.
Available from your local library, bookshops, Amazon and Kindle.
Published by Puffin Books.
NEW Kindle Football Academy book
Starting at just 99p this summer.
Football Academy : Teamwork is the prequel to my 100,000 selling Football Academy series, published by Puffin.
Read it now here 

Player Profile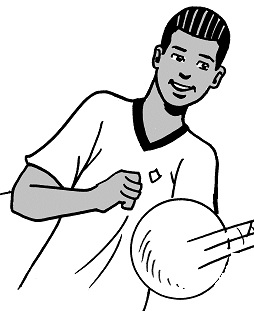 Name: Ben Blake
Age: 11
Position: right winger
Best friends on team: James, Ryan
Interview with Tom Palmer about writing Reading The Game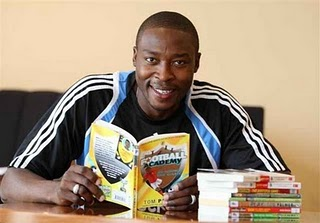 What made you write a story about a boy who can't read?
I was weak at reading when I was younger. I couldn't concentrate on all the words. And I meet a lot of children who are the same. Also I read a book by the rugby player, Scott Quinnell, who said he couldn't read at school and that he used to create trouble to avoid admitting it.
How come you were weak at reading, but you're a writer now?
It is because I read a lot of things about what I am interested in. Football. Once I realised you don't have to read big books or hard books, and that reading Match magazines was fun, I got more confident.
So you don't have to be good at school to be a writer?
No way. Half the writers I know did really badly at school. They left school with no qualifications. But somehow they got into reading. Then writing. I think reading match reports in newspaper is the thing that did it for me.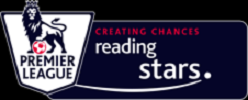 Watch a great Premier League Reading Stars film about how much famous footballers like to read, with interviews including Alan Smith and David James here
Read my blog about Dyslexia Awareness week here.
Real Readers Reviews with Reading the Game
"You don't get books like it…it's unique! It makes you feel like a better player than Messi. It's phenomenal. I'd recommend it to a friend as it's one of the best books I've ever read. The main character, Ben, has to learn to read while making sure it doesn't have a effect on his game. It also describes why he's learning to read and the problem he has. Only his best friend, Ryan, knows he can't read yet. Tom Palmer is specifically good at describing what's happening and that makes you feel like you are there. I'm definitely going to get another Tom Palmer book from the library. Gotta rush, got balls to kick. " www.tomjeffries.co.uk/2011/08/reading-the-game-book-review
"an excellent book that hits the button for all young footballers" Judith Sanson, Chair, Board of Directors, Dyslexia International
"I have just read the book in one sitting – I couldn't put it down!! I'm no football enthusiast but the story rings so true. I have worked with severe dyslexics and know the shame some of them experience. Wonderful that you are creating literature for boys that is exciting, age appropriate but simple to read. Keep going!" Barbara Lowe, Hampshire Dyslexia Association
I have passed this on to our centres and will recommend it to students. I would like to wish you well in your good work. Shirley Cramer, Chief Executive Officer, Dyslexia Action
"Reading the Game" by Tom Palmer is a story about a young dyslexic boy who loves football. This is a fast moving story aimed at engaging the reluctant reader. Anne Powell, Medway & Mid-Kent Dyslexia House Association www.medwaydys.org/html_pages/literacy/reading_pleasure.html
Tell me here what you thought about Reading the Game.
Buy Books
Signed and dedicated copies of all my books are available personalised to order from my local independent children's bookshop "The Thoughtful Spot" here.
Football Academy 4: Reading the Game  Amazon
Email me here for more information or use my contact form here.
PRIVACY & COOKIES POLICY                            TERMS & CONDITIONS