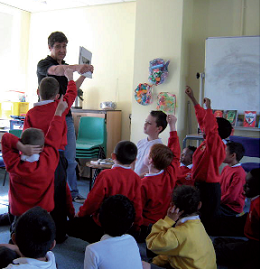 I am now taking bookings for visits to schools, libraries and festivals offering a choice of:
"Thank you SO much from all of us for such a wonderful day.  It will live long in the memories of our children.  Your warmth, honesty and humour shone throughout the day as children and staff alike engaged with you, inspiring our authors of the future! "  Windmill Primary
If you want to know more about my visits, email me here or use admin (at) tompalmer (dot) co (dot) uk or use the form below:
Please be patient.  Our replies are not automated so you will get a personal reply.
"Many thanks again to Tom for a wonderful day and we hope to invite him back in the near future. " St George's Junior School, Weybridge
Preparation for the visit
I offer lots of free materials for your pupils to use before and afterwards to support the author visit:
videos
powerpoint
souvenir booklet
colouring etc.
"Thank you for all of the communication and preparation resources that were provided, they were extremely useful and definitely heightened the enthusiasm and anticipation of Tom's visit."  Ursuline Preparatory School
Format of the day
I offer a variety of activities to successfully engage the children in a positive conversation about reading and writing.
A Q & A session at the end is often popular.
"The work of this author is making a valuable contribution to improving pupils' writing." Ofsted
I bring a soft ball and an inflatable goal, unless you have one already.  I can bring books for sale and signing, but it is always easier to work with your preferred local bookshop/supplier.
Watch me reading with a class, from the first chapter of Foul Play, part of my Football Reading Game,  here.
"The impact of last year's visit was massive and has really helped us develop reading with our current year 6 group. In reading surveys and discussions your books always get a mention and are still read by a lot of the year group." Green Lane Primary School
Fees
Email me for more information here or use my contact form here.
I am happy to work with two schools in one day if you have a school nearby that you would like to share the costs of travel & fees with.
Recommendations

Jim Sells of the National Literacy Trust calls my Football Reading Game 'guerilla reader development at its finest.'
"Tom Palmer is a champion for reluctant readers and works tirelessly to attract children – and particularly boys – to pick up a book" – Marilyn Brocklehurst, Norfolk Children's Book Centre
"What a fantastic day! Tom informed and entertained the pupils in equal measure with his interactive assemblies.  The children were inspired by his stories and motivated to follow in his footsteps-a MUST for every  primary school!"  Neil Homer, Primary School Teacher and Education Project Leader, Shrewsbury Town In The Community 
Publicity for your school:
You can publicise the visit on your website or contact your local media eg  Insidetameside.com
"Thank you very much for coming yesterday and engaging the children so thoroughly. It was great to see the children so involved, thinking about books and reading whilst also having so much fun!" Berkhamsted Prep School
There are more recommendations from schools I have worked with below and on the Football Reading Game and Rugby Reading Game webpages.
"The children absolutely loved your visit – I've had so much positive feedback from children, parents and staff! It was a huge success and definitely promoted both reading for pleasure and inspired writing." Carlton Primary School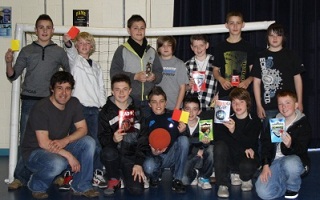 Email me for more information here or use my contact form here.
 Testimonials
"I've never seen an audience so hyped up over an author event. Tom was a fantastic speaker, who engaged with the students, made them laugh and most importantly – got them excited about reading!" Christleton High School
"Tom made a great impression on the children (and the teachers!) One of our children may be inspired to follow in your footsteps and become a writer – it is great that they now have something to aspire to and it was lovely to meet you in person."  Freckleton Church of England Primary School
"This morning the boys were saying how much they enjoyed your talks and many members of staff have stopped me to say how the boys have already been talking to them about your visit – this was before school had even begun!  Some of the boys present yesterday would not normally be regular library users or read regularly and I believe that they will now be inspired to begin reading, which we both know opens up doors both personally and educationally.  I also believe that your message to the boys to follow their dream to become a writer (or football player/Band musician/artist/Doctor etc) is a very important message – there is so much talent in the Lancaster School that encouraging our boys to aim high is very important." Librarian, The Lancaster School
"I just wanted to say a huge THANK YOU for all your hard work yesterday, I have had very positive feedback from the staff today and the children have been telling me how much they loved your visit and how much they are enjoying reading your books.  The pupils who took part in the workshop were absolutely thrilled to see their names at the bottom of the latest chapter of your live story, it has really boosted their confidence.  There has been a real buzz around the school, which is great to see." Orchard Junior
"The children were all engaged in the session. Tom was really relaxed with them and spoke to them in friendly and supportive manner. The children are still talking about his books and which they have read and which they want to read next. It was a very worthwhile event. A bonus was that it allowed me as a teacher to find out a lot about the reading habits of the children through his question and answer session!" Swillington Primary School
"We loved your talk this morning! We think you are very lucky to be an author! We are hoping to buy some of your books for our classroom. We enjoyed the quiz and the rugby game! It made us feel as if we wanted to get straight on with reading one of your books! Thank you so much for coming!" All the children in 2gg, Kingshott School
"Tom Palmer is an inspiring author for any child (or adult!) to meet. Passionate about turning children on to reading, his 'Football Academy' stories for 7-9 year olds provide accessible, engaging stories dealing with age-relevant issues – great for classroom discussion and PSHE. We loved his 'Penalty Shoot-out' football quiz – an author talk with a difference! Meeting the author in the flesh after reading his stories and skyping our questions and queries was memorable and exhilarating. A very worth-while experience for all involved!" Catherine Monaghan, Y3/4 Teacher, Middleham CE VA School
"I really enjoyed it when you came to visit our school! The penalty shoot out was great fun! I read your book Dead Ball. I thought it was fantastic. I really like the character Danny." Peter, 7, Bury Grammar School
"The best thing was that your visit has encouraged some of the more reluctant readers in the group – especially when you talked about how you got into reading" Yvette Gunther, Nottingham High School
"After your visit it was lovely to hear the children's excitement …it was such a boost to their love of the written word and I cannot thank you enough "Joan Mercer, teacher Stockport Grammar School
"You were a big hit! Let's organise a return visit!" Lucy Shepherd, Bristol Grammar School
"The Football Reading Game provides a fantastic opportunity for libraries to engage with families about reading, in an exciting and positive way. Tom's passion for football and reading is obvious and both parents and children immediately responded to his warm sense of humour. The session illustrated just how important reading is in helping you to achieve your goals and that a love of football can easily sit alongside a love of reading. I can't recommend the Football Reading Game highly enough." Louise Binns, Community Children's Librarian, Eccles Library
"I really did enjoy your visit. It was the first time I had met an author and I felt very excited. It encouraged me to write and read more. I did enjoy you telling us more about your books you wrote about – Danny and his Dad solving crimes , saving players and stopping criminals. " Matthieu, Ridgeway School
"Many pupils enjoy communicating with and working alongside a well-known author of children's books who is attached to the school. The work of this author is making a valuable contribution to improving pupils' writing." Ofsted
Buy Books
Signed and dedicated copies of all my books are available personalised to order from my local independent children's bookshop "The Thoughtful Spot" here. 
With an extra special Christmas or birthday card from me on request!
Overseas : FREE Delivery worldwide from The Book Depository.
Australia: Boomerang
Canada: Amazon Canada
New Zealand: Wheelers
USA :  Indigo books
Visit my
 bookshop or support your local bookshopHIVE
Schools bumper 33 book pack
offer here
33 books
£194 saving £63 – over 25% discount
FREE DELIVERY & SIGNED BOOKPLATES
Please email rosie@rosemaryhillbooks.co.uk
Schools class set offer here.
15 copies 20%+ discount
30 copies 25%+ discount
100 copies 30% + discount
FREE DELIVERY & SIGNED BOOKPLATES
Please email rosie@rosemaryhillbooks.co.uk for a quote
Email me here for more information or use my contact form here to ask me a question.
Thank you.