Lucas, Irfan, and Jack want to mark the beginning of their summer holidays in style! With a camping cover story, the boys sneak into the old abandoned football stadium to spend the night. Are the rumours about it being haunted true? They're about to find out.
Published by Barrington Stoke
Signed and dedicated copies of all my books are available personalised to order from my local independent children's bookshop "The Thoughtful Spot"here.
Available from your local library,  bookshops, Amazon and Kindle. 
Read the first chapter of Ghost Stadium here.
Watch the video of Tom talking about Ghost Stadium here. 
Awards
Ghost Stadium won the 2014 Leicester Libraries Our Best Book Award.
Ghost Stadium has been selected for Bookbuzz 2014.
"Jonathan was so scared by the descriptive writing that he had to finish the book in my bed! He was very keen to read aloud the most scary bits!  So you could say he was scared into reading!"  Laura
I had a great day recently at Market Drayton Junior School talking about Ghost Stadium.  What a great spooky display!
Writing and research
Read my blog about how I researched and wrote Ghost Stadium.  I slept on the pitch of the oldest international football stadium in the world, The Racecourse Ground in Wrexham here.
For the launch of my new book, my publishers Barrington Stoke made me a Ghost Stadium cake!
Resources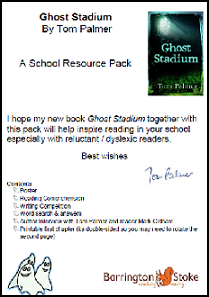 Learn more about writing Ghost Stadium with the School Resource Pack here.
poster
reading comprehension
class writing activity
wordsearch & answers
an author interview with Tom Palmer
printable first chapter of Ghost Stadium
View all my other literacy resources here.
Real Reader Reviews
"Totally on trend with its paranormal themes, urban exploration and friendship, Tom Palmer has written a book that will engage even the least confident of readers, snaring them in with its pacey storytelling." Jake, Bookbuzz
"Ghost Stadium is a great short read – the chapters are short and succinct, and each ends with something that makes you want to turn to the next page. Every sentence is carefully crafted to entice you to read on, as you get deeper and deeper into the mystery and horror." Katherine, Bookbuzz
"I really like how flexible Ghost Stadium is – loads of readers are going to love this story of three friends' overnight stay in a haunted sports stadium. Anybody that likes football, sports, mysteries or chillers is going to find something to grip them in this spooky story. I loved that the author sneakily name drops some zombie and horror books from Charlie Higson and Darren Shan – so any further reading is all taken care of!" Leanne, Bookbuzz "This book was dead good" Toby
"The temptation to turn out the lights and read this out loud by torch light was simply too much to resist."  The Bookbag reviewer's son  "an exciting and spooky adventure" Julia Eccleshare "I could not put this book down… haunting, action-packed and completely brilliant." Little Librarian "I really enjoyed Ghost Stadium. I loved how it made me feel sort of like I was there" Cameron "The best book! I loved this book and couldn't stop reading it. The chapters were a good length with brilliant cliff hangers to keep you interested. I felt scared but didn't want to stop reading. I hope Tom Palmer writes some more books." Euan "Excellent, hooked from the start High interest level for reluctant readers. Good for boys aged between 11 and 14 that are finding reading a challenge." Karen Tomlin "My 12 year old son read this book in one evening, he couldn't put it down, so, as reading is a positive, I let him read passed his "lights out"time. He described it as gripping, exciting, scary and brilliant in every way." Luke Harrison
"A brilliant example of an accessible book that has a genuinely high interest age. Much of the time it feels like cover interest ages are merely plucked out of fresh air, but in this case it is obvious that the author has gone to great lengths to make this narrative genuinely appealing to the 12-15 age range and has managed to keep the language and vocabulary accessible and unthreatening, as well as feeling natural and realistic for the age of the characters.
The football background has enough weight to make this book appeal to those who only ever want to read 'football records' books, or don't read at all, but the football theme is not so prominent that it would deter those who have no interest in sports. The mystery narrative is strong enough to stand up alone, without relying on its football context as a 'hook', so the story has a genuinely broad appeal; football, sports, mystery, chiller. Many readers would be able to identify with the feeling of pride and devotion in following a sports team, and others would simply be pulled along by the exciting mystery or the scary series of events that's unfording. It's not going to be difficult to find a lot of readers who are going to love this. I also love that the author sneakily name drops some zombie and horror books from Charlie Higson and Darren Shan- so any further reading is all taken care of 😉 The chapters are short, two pages as a rule, and fairly numerous. To reluctant or struggling readers, this book would represent a huge achievement and confidence boost because it doesn't feel like a book for a low reading ability. This itself is a really valuable asset, and one that is pretty rare and difficult to achieve. All the chapters end on spectacular cliff-hangers, so finishing this story is not going to be a problem, even for the most apathetic of readers. This book is from Barrington Stoke's Dyslexia friendly range, so format wise the pages are a bit off-white, the font is more easy on the eye than usual and the text is spaced in a way that is easier to read, but not especially noticeable to those who aren't looking for it. " mythoughtsaboutbooks.blogspot.co.uk/2014/02/ghost-stadium-by-tom-palmer.html "This book is so amazing you could read it one million times and not get bored. It is not scary, but it is spooky and an awesome adventure book. I would recommend it for anyone who enjoys atmospheric and spooky stories! Will you read it? I want to know if you enjoyed it as much as I did." Alec "What should have been the best night of their summer holidays soon turns into a nightmare for three boys on an abandoned football pitch. Just the thing for children who like to be frightened. This is the type of book that makes boys want to read, as well as being specifically designed to make it easier to read." Bookbag
Buy Books
Signed and dedicated copies of all my books are available personalised to order from my local independent children's bookshop "The Thoughtful Spot"here.
Tell me here what you thought about Ghost Stadium.
PRIVACY & COOKIES POLICY                            TERMS & CONDITIONS