I am now taking bookings for author visits. I can offer a mix to suit you of :
assemblies
presentations
workshops
virtual visits
I offer school visits to talk about fair trade, reading, writing and football, linked to my book – Off Side – about a sixteen year old son of a cocoa farmer who is trafficked from Ghana to England, thinking he is going to be a famous footballer.  Having seen at first hand the difference it makes, I try to choose Fair Trade where I can.
Read the first chapter of Offside  here
If you want to know more about my visits, email me here or use admin (at) tompalmer (dot) co (dot) uk or use the form below:
Please be patient.  Our replies are not automated so you will get a personal reply.
Fair Trade school visits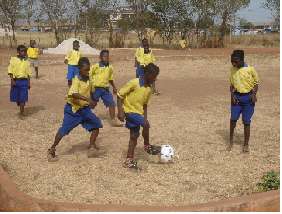 Football, Fairtrade and trafficking of young people from Africa,
how an author uses issues like Fairtrade cocoa and a setting like Ghana to write a book
 tips on writing skills,
sharing reading habits.
The sessions are appropriate for Y3-Y8 students in groups of up to 200, to talk about fair trade, people trafficking, reading, writing and football.
The event will include the children in talking about fair trade issues and their reading passions and involve an exciting indoor penalty shoot-out.
Fair Trade Resources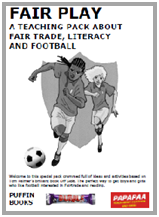 Fair Play teaching pack about Fair trade, football and literacy, based on my research trip to Ghana to write Foul Play 3 : Offside, is available free to download by clicking here.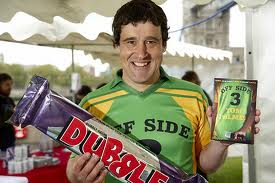 Read my diary from my trip to Ghana with Divine chocolate here.
Fairtrade Fortnight author visits recommendations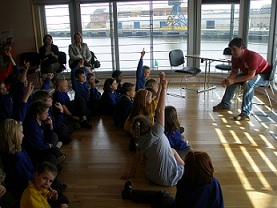 "Tom Palmer raised the roof with his energetic football and Fairtrade workshops at St Peter's Methodist School and Bridge & Patrixbourne school on Friday. The final penalty shoot outs were a brilliant way to involve the children and round off his inspiring account of researching his latest book, Offside, in Ghana and the difference that Fairtrade makes to the lives of the cocoa farmers he met there. It was fantastic to get together with other schools in Canterbury & District that are learning about Fairtrade and find out about books, football and Fairtrade in one go!" Kika, Canterbury
"Thank you very much for organising this fantastic event. Our children had a brilliant time and found the "hands on" approach of Tom Palmer really exciting. The quiz and penalty shoot-out were brilliant and have inspired one of our teachers to run a football-story-writing competition at our school" Lisa Hallweger, St Stephens Junior
"Thank you so much for inviting our year 6 pupils. They had a fantastic time with you and came back buzzing with enthusiasm. It sounded a great afternoon, they came back clutching their signed copies of books and talking about stories and penalty shoot outs. The ball our school won wasproudly displayed and showed in assembly yesterday. Thank you again for a wonderful afternoon and including us." Jackie Lockwood, Dep Hd Kingsmead
Awards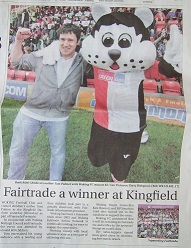 The event with Woking Fairtrade Action Network was awarded the Runners up prize for Most Creative Campaign in the national 2012 Fairtrade Fortnight awards! Well done to everyone involved and thanks for inviting me to be a part of it.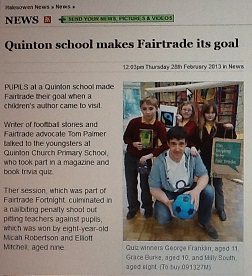 View the article from a visit to Quinton Primary School in Fairtrade Fortnight 2013 here .
Email me for more information about school visits here.
Fair Trade Links
If you are interested in Fair Trade there are lots of great resources here: www.fairtradeinfootball.com
Buy Books
Signed and dedicated copies of all my books are available personalised to order from my local independent children's bookshop "The Thoughtful Spot"  here.
Visit my 
 bookshop  or support your local bookshop HIVE
Overseas : FREE Delivery worldwide from The Book Depository.
Australia: Boomerang   
Canada: Amazon Canada
New Zealand: Wheelers       
USA :  Indigo books
Schools bumper book pack and class set offers here.
Email me here for more information or use my contact form here to ask me a question.
Thank you.