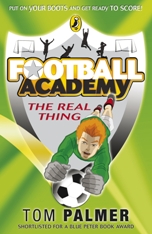 Book 3 in the Football Academy series.
In the first two books of Football Academy, Tomasz Bobik gets a lot of trouble from the team captain, Ryan Flynn.  Mainly because he is Polish and Ryan uses that to bully him.
But in The Real Thing, the Ryan-Tomasz trouble takes an unexpected twist, when United's under twelve's are invited to play in an international tournament against Real Madrid and AC Milan. In Poland!
Then, when Ryan is watching his team mates being bullied for being English, he sees Tomasz come to the rescue, and he is forced to change his ways.
Read the first chapter of The Real Thing here.
Watch me read from The Real Thing  and ask quiz questions here.
Find out more about the Football Academy series here.
Signed and dedicated copies of all my books are available personalised to order from my local independent children's bookshop "The Thoughtful Spot" here.
Available from your local library, bookshops, Amazon and Kindle.
Published by Puffin Books.
NEW Kindle Football Academy book
Starting at just 99p this summer.
Football Academy : Teamwork is the prequel to my 100,000 selling Football Academy series, published by Puffin.
Read it now here 
Player Profile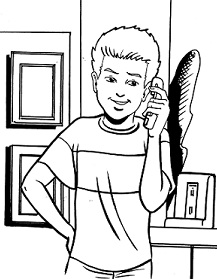 Name: Tomasz Bobik
Age: 11
Position: goal keeper
Best friend on team: Jake
Supports: Legia Warsaw
Awards
2009 Football Academy 3 : The Real Thing longlisted for The Fantastic Book Awards (F.B.A), organised by Lancashire School Library Service
Interview with Tom Palmer about writing The Real Thing

Was Tomasz based on anyone you know?
Yes. A boy I met in Leeds. He had just moved to England and was struggling to fit in. His dad brought him to see me do a talk at Armley Library. The dad told me he'd been bullied at school. Just because he was Polish. He was a lovely lad and I wanted to put his story into a book.
Did you get bullied at school?
A bit. When I was fourteen. Two lads who were always bored in class used to spit on me in the class. The teacher knew, but did nothing. It was in set four in Physics. I was too scared to take them on, so I just worked really hard at Physics and got promoted to set two.
Did you tell anyone?
No. I wish I had. I think if it was now the teachers would have done more. If it was happening today I'd tell them. But bullies never think you'll have the nerve to do that.
Real Reader Reviews of The Real Thing
"It's a fantastic book and I can't wait to turn the next page" Adam, Haworth Primary School
"It's nail biting and it grips me to the page" James, Haworth Primary School
"The main thrust of the story is the football, and the dreams boys who play it have, which is just as it should be. Underlying the derring-do on the park is the issue of bullying, which is familiar to all readers. And the xenophobia Ryan exhibits adds a prod towards thinking about a slightly more subtle issue that flows through other parts of life and not just soccer. The prose is excellent – simple, direct and with a vocabulary that is both accessible and ever-so-slightly stretching. They're no-nonsense stories aimed squarely at reluctant readers, but they're not dull or worthy. They're fun to read and tremendously engaging. "The Book Bag
Tell me here what you thought about The Real Thing.
Buy Books
Signed and dedicated copies of all my books are available personalised to order from my local independent children's bookshop "The Thoughtful Spot" here.
Football Academy 3: The Real Thing  Amazon
Email me here for more information or use my contact form here.
PRIVACY & COOKIES POLICY                            TERMS & CONDITIONS