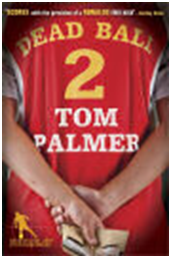 Book 2 in the Foul Play series.
After helping to rescue Sam Roberts in Foul Play, Danny secures a Year Ten work experience placement with Anton Holt, his friend on the local newspaper.  As part of his job he has to interview a local footballer.
But, after the interview, he witnesses a staged car accident involving the player.   This is the start of a terrifying week in which a crazed Russian billionaire tries to kill three England goalkeepers.   And Danny joins Holt in Moscow, desperately trying to save the players, and the English game.
Read the first chapter of Dead Ball here.
Watch me read from Dead Ball and ask quiz questions here.
Find out more about the other books in the Foul Play series here.
Signed and dedicated copies are available personalised to order from my local independent children's bookshop "The Thoughtful Spot" here.
Available from your local library, bookshops, Amazon and Kindle.
Published by Puffin Books.
NEW Foul Play Kindle exclusive book
Starting at just 99p this summer.
Foul Play : The Danger Academy
NEW Dead Ball resource
SPAG worksheet here
 with powerpoint here
based on  Dead Ball – my Russian children's thriller (useful for linking to the 2018 men's football World Cup).
"Anton Holt" interviews Tom Palmer about writing Dead Ball.
Did you have to go to Russia to research the book?
I did. Twice. The first time I got a tour of the Luzhiniki Stadium, where Man U won the 2008 Champions League final against Chelsea. I wanted to see the press room and the corridors under the stands, so I could get the book right. They showed me everything.
What about the second time?
The second time I saw a very rich man and his private army in a hotel bar. It was amazing to observe how they operated. Talking into microphones up their sleeves. All sitting on different tables, as if we didn't know they were working as a unit. And the best bit… they were all drinking carrot juice.
And how did that help the book?
It made it more realistic, I hope. I could never have imagined how a private army works. Lots of rich people in Russia have them. Also, I could describe the streets Danny walked on, and get a feel of a very different country to the UK.
Read my blog about writing Dead Ball and my research trips to Moscow here, here and here
Shortlists for Awards
2009 Foul Play 2 : Dead Ball shortlisted for Rotherham Children's Book Award
Real Reader Reviews of Dead Ball
Here's Chelsea player Yossi holding a copy of Dead Ball, which he told the National Literacy Trust was his favourite children's book.
"I have young boys myself and reading to them is so important. Everyone should try to read more. We love Dead Ball by Tom Palmer. There are lots of twists and turns and it's great fun to read – especially if you love football!" Yossi Benayoun
"I particularly liked the parts of the book set in Moscow with descriptions of Red Square, St Basil's Cathedral, the Kremlin, and the marvels of the Moscow underground train network, all of which are evoked convincingly from the point of view of a teenager, and without losing any pace from the plot. I was also impressed by how well-rounded the character of Danny is. The relationships he has with other people, most notably with his father, with his sister and with a schoolfriend on whom he has a gently burgeoning crush, are all more than one dimensional and subtly-drawn. Palmer achieves this whilst keeping his writing and dialogue snappy. A sharp and, if you will pardon the pun, perfectly pitched novel" Write Away
"It was a good idea to set it in a different country (Russia) We liked the way the cover is set out because it shows us one of the Russian temples in a football. You describe well how the characters behave. We love the proper rich baddie Dmitri Tupolev because he's really rich and he's sly and he gets away with murder. A bit like us! We hope you keep writing excellent books. " Jay & Glenn, Class 9 Basildon
Tell me here what you thought about Dead Ball.
Buy Books
Signed and dedicated copies are available personalised to order from my local independent children's bookshop "The Thoughtful Spot" here.
Foul Play series
Foul Play 1 Amazon
Foul Play 2 :  Dead Ball Amazon
Foul Play 3 : Off Side Amazon
Foul Play 4 : Killer Pass  Amazon
Foul Play 5 : Own Goal  Amazon
Set Amazon
Email me here what you thought about Foul Play and for more information about my books or use my contact form here.