RESIST  :  One Girl's Fight Back Against the Nazis 
Resist shines a light on the incredible work of the WWll Dutch resistance, in a story inspired by the childhood of Hollywood legend Audrey Hepburn.
As the brutal Second World War stretches on with no end in sight, life for ordinary Dutch people in the Nazi-occupied Netherlands is fraught with peril and hardship. There is very little to eat and the population lives under the constant threat of arrest and enslavement.
After the murder of her beloved uncle and the capture of her brother by the Germans, Edda is determined to do anything she can to help the resistance fight back against their oppressors. But what can a teenage girl do and how much risk is she willing to take?
Read Chapter 1 of Resist here
Winner of the Historical Association Young Quills Award 2023, the 2023 Berkshire Book Award, the Cheshire Schools' Book Award 2023 and the North East Book Award 2023.
Published by Barrington Stoke.
Written for 9+ children.
BUY THE BOOK
Find it at your local library, local independent bookshop, 
Waterstones and Amazon. 
Overseas : FREE Delivery worldwide from The Book Depository.  
Special Resist souvenir readers' packs are available here. 
Signed and dedicated copies personalised to order from my local independent children's bookshop "The Thoughtful Spot" here.
"Fear …risk…courage …terror … Another terrific @tompalmerauthor.  Deep hunger + tension during WWII occupation – an edge of the seat read"  Teresa Cremin @TeresaCremin
"It's hard to read Resist without thinking of the war in Ukraine. The descriptions of hiding in cellars, the devastation and the starvation are vivid. There were several times when I was choked up with emotions.  Another gem for children's historical fiction." Dr Laura Ovenden   @OvendenLaura
"An exciting blend of well-researched background and thrilling adventure" Jewish Chronicle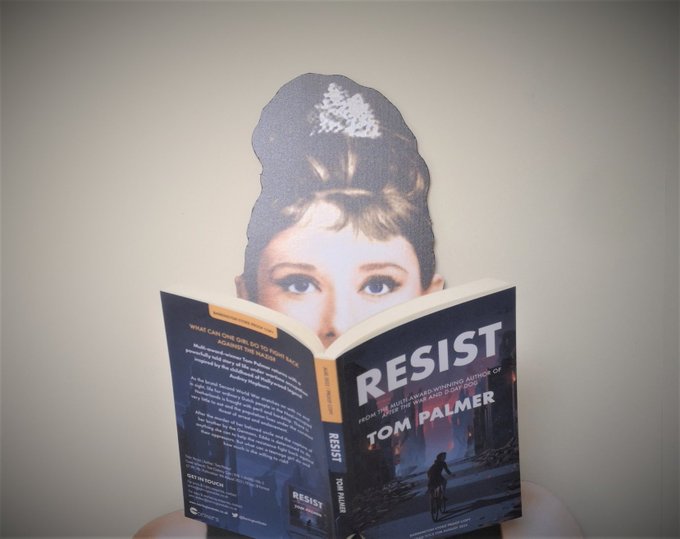 Resist is inspired by the real-life experiences of Hollywood legend Audrey Hepburn, who began working for the Dutch resistance during her teenage years spent trapped in the Nazi-occupied Netherlands.
Drawing from biographies and the numerous interviews that Audrey gave throughout her career, Tom chronicles the astounding story of her courageous missions for the resistance, from delivering newsletters to dancing in illegal performances to raise money for others to flee the country. Resist paints a powerful picture of life in the Netherlands during WWll, at a time where families were torn apart and resources and food commandeered, leaving millions on the brink of starvation.
"I've written a lot about the Second World War and have always been fascinated by stories of resistance – of ordinary people finding the courage to stand up to the Nazis who invaded and took over their homes, causing so much misery and hardship. It was such a brave thing to do and when I read about Audrey Hepburn's work for the Dutch resistance when she was a teenager, I knew it was a story I had to explore further in order to share this inspiring aspect of the war with children today." Tom Palmer
Resist Awards and Selections
Nominated for the 2023 Carnegie Medal
Winner Historical Association Young Quills Award 2023
Winner of the 2023 Berkshire Book Award
Winner of the Cheshire Schools' Book Award 2023
Winner of the North East Book Award 2023
Pick of the Year FCBG 2023
Currently shortlisted for the 2024 Grampian Children's Book Award
Currently Shortlisted for the Archway Learning Trust Book Award 2023
Shortlisted for the Wolverhampton Childrens Book Award 2023
Shortlisted for the Dudley Children's Book Award 2022
Shortlisted for the Northern Ireland Book Award 2023
Shortlisted for booksfortopics.com best-books-of-2022 Upper KS2 (Age 9-11): Best Curriculum Support

Aug 22 The School Reading List Fiction Book of the Month
Aug 22 Topsta Best Books of the Month
Oct 22 @OpenUni_RfP Top Text More here
Imagining History Top 10 Children's History Books of 2022
Thank you!
Resist Events 2023
World Book Day virtual chat with the Anne Frank Trust about my book "Resist" and the links between Audrey Hepburn and Anne Frank.  Catch up now here
Resist Resources
Read Chapter 1 of Resist here
Poster here                               
Cover prediction worksheet here
Settings Map worksheet here
Resist Playscript
here
Resist Colouring here
CLPE Q&A here
CLPE teaching notes here.
Resist book launch virtual event for schools with Mr Dilly. Catch up now here youtube/wcDeIe7inUo
Resist Oranjekrant newsletter (the sort of letter young Edda delivered) includes an original recipe for Nettle Soup from the "Hunger Winter" of 1944-45 here

Resist Films
1 Book Trailer

2 Audrey Hepburn as a young dancer

3 Audrey Hepburn at war

4 Audrey Hepburn in Occupied Holland

5 Discovering Audrey Hepburn's Life through Books
6 Researching Audrey Hepburn's Life Through Museums


RESIST Launch Events
Resist – the virtual book launch for schools event with Mr Dilly. Catch up now here …
Thanks everyone who joined us at Halifax Central Library to celebrate the publication of Resist!
More information about how to join me at my other forthcoming public events here.
Resist – an extra FREE Christmas story " Silent Night"
Read the story below
Watch me read the story
Writing Resist
Writer's Scrapbook. 
Alongside my research, I made a scrapbook of maps, images and quotes from Audrey Hepburn that I used to inspire my writing of Resist.
This is something I show pupils and talk about the process of writing in my school visits.
Resist Q&A with Tom
Firstly, can you tell us a bit about Resist and what first inspired you to write the book?

Tom : Resist is about a 15 year-old girl in WW2 occupied Holland. She is a dancer and quite shy, but, when her uncle is executed by the Nazis, she decides to fight back against them, putting her life at risk for the Dutch resistance. The girl, in later life, became the film star, Audrey Hepburn. It was a story I'd heard about and really wanted to tell it. I knew Audrey Hepburn had been a great actor and humanitarian, but not this. It leaped out at me as a story worth telling.
How did you find striking the balance between fact and fiction when telling Audrey's story?
Tom : All the scenes are based on real events I've found in biographies and in interviews with Audrey. She was quite reluctant to talk about what she did in the resistance, so, I filled in the gaps by reading about and finding out more about other children who lived in the Netherlands during the occupation. It's about 50/50 I'd say.
The story casts a spotlight on the experiences of ordinary Dutch people during the Nazi occupation. What made you want to write about this particular period of the war? Were there any aspects that were especially important to you to show?
Tom : I have read a lot about the French resistance, but knew very little about the Dutch experience, especially the fact that the Nazi occupation led to the death of thousands of Dutch people (by starvation) and tens of thousands men were taken to Berlin and forced to be slave workers. What fascinated me was how children react to being occupied and brutalised like this. How did they react? How would I react? That sort of thing.
How did you go about your research for the book? What was the most interesting discovery you made?
Tom : Books. Films. Museums. Maps. Interviewing real people who were there. Just gathering stories. The idea of Death Candidates is something I can't shake off. At the beginning of the occupation 460 well-known men were taken prisoner by the Germans and held as so-called Death Candidates. The threat was that, if the resistance attacked the Germans, 5 of the Death candidates would be executed. That happened. In 1942 the Germans took five of the men and executed them. One of the five was Audrey's uncle, Otto.
Finally, can you recommend any other books for readers who enjoyed Resist?
Tom : Yes, similar era stories include Sandi Toksvig's Hitler's Canary. That is set in Denmark. I also love Auslander by Paul Dowswell.
Podcasts
Book Blether Hear Mrs McCarthy and Mrs McClean discuss Resit on their podcast (jump to 17.45) here … https://open.spotify.com/show/2ICKqzpo3c48EUHVYIejkl
Thank you 🙂
Find out more
For more about what I am currently up to, follow my tweets or tweet me @tompalmerauthor 
More about all my other books for children here
Sign up for Resist updates please complete the contact form below. Our replies are not automated so you will shortly get a personal reply.  See T&Cs. 

Reviews
"Moving, Engaging and Utterly Absorbing" imagininghistory.co.uk
"In this heart-rending and immersive novel, Tom captures the horror of living under Nazi rule during some of the darkest days of the Second World War, but also shows us how powerful is the human will to survive and the determination to stand up to evil and oppression. This incredible story of courage and endurance is all the more remarkable for being told from the point of view of a teenage girl who found the will to fight back even when brought to the brink of starvation. It is a feat of storytelling with an impact that lasts long after you have turned the final page." Ailsa Bathgate 
"Cracking stuff again from @tompalmerauthor. Bringing to light the hardship of people living under occupation, their bravery and right to hope. Also the interesting element of regret… Audrey is a total hero, someone everyone can admire. #Resist"  @lauralaura27
"Tom Palmer has written another excellent historical novel; tense and gripping with each page fraught with danger. The reader is drawn into Edda's world of curfews, roadblocks and the constant gnawing hunger that occupies her thoughts.  Each time it seems as though the villager's hopes are raised for an ending to the war, they are dashed and you are left wondering how long can Edda maintain her strength and spirit.  Accessible and ideal for MG readers, this is a must-have for any school library."  Barbara Band
"It's hard to read Resist without thinking of the war in Ukraine. The descriptions of hiding in cellars, the devastation and the starvation are vivid. There were several times when I was choked up with emotions.  Another gem for children's historical fiction." Dr Laura Ovenden   @OvendenLaura
"What an incredible story of one family's struggle to survive during the German occupation of the Netherlands during WWII. I need some time to let it sink in. A masterpiece. It's made me realise how many war stories have a male main character. Edda is as strong and brave as any boy. I can't wait for my own ballerina to read it." @KateHeap1 Kate Heap: Scope for Imagination
"Once again Tom has brought events from WW2 alive and ensured that another piece of history will not be forgotten. A tremendous 5 star read Tom.  This is just superb. Another first rate tale. The research you put into your books just sings from the pages. It is sensational." @Valda_Varadinek
"Started this last night, love it so far, that first chapter had me hold my breath!" @TeachEnglishLit
"my most anticipated book this year!"Jennie Edspire @Edspire
"Sure to be another absolutely stellar read!"  @HeathBooks
"Another triumph from @tompalmerauthor and @BarringtonStoke. Resist tells the story of an extraordinary girl as she holds on and fights for everything (and everyone) she loves and believes in during WW2." (Miss Byrne) @OLQPBookClub
"FINISHED: well, I'm finished, and emotionally spent. @tompalmerauthor just writes the most amazing families, stories and people. I loved #Resist. Edda is the bravest and kindest. She's standing up for people despite being afraid. This was tough to read at times, but incredible." Steph alittlebutalot @eenalol
"Tom's historical fiction is always a compelling and moving read and Resist sounds like something special."   Anne Thompson  @Alibrarylady Full review here
"Another triumph from [Tom Palmer]. Full of history, heroism, and heart"
DAN SMITH, AUTHOR

"Resist is extensively researched and superbly written, telling the story of the brave Dutch resistance. It's another essential Tom Palmer masterpiece"  JON BIDDLE, TEACHER
"Resist is history brought to life … A remarkable story told well and also told with understanding and care of the people involved"  ANNE THOMPSON, 'LIBRARY LADY'
"Tom Palmer is the master of accessible historical fiction … A heart-wrenching story of strength, courage and sacrifice"  KATE HEAP, 'SCOPE FOR THE IMAGINATION'
"I think this is [Tom Palmer's] most powerful story yet, it pulled on every emotion … Perfect for fans of Goodnight Mr. Tom, War Horse and of course all of Tom's other historical stories" EMMA SUFFIELD, LIBRARIAN
"This is historical fiction at its best … The novel 'speaks true to me' [as a former resident of Arnhem] and shows evidence of meticulous research … Palmer is a genius at using crisp, clear language to create vivid scenes and evoke tension"  ALICE VISSER-FURAY, TEACHER
"As always with Tom's novels, you feel you are watching through a window to the past" NETGALLEY REVIEW
"A fast-paced, gripping and powerful little novel … It would make a great book to study in the classroom"  NETGALLEY REVIEW (TEACHER)
"A fantastic war time read … I fell in love with the characters" – NETGALLEY REVIEW, LIBRARIAN
"Another gem for children's historical fiction" DR LAURA OVENDEN, TEACHER
"Tom Palmer is without a doubt the Master of historical fiction for children. He knows how to engage the audience and in Resist he works his magic once again. The fear that our protagonist Edda feels is palpable; the sense of foreboding stalks the pages … A triumphant 5 star read"  NETGALLEY REVIEW, TEACHER
"Lump in throat, heart in mouth, tears brimming moments!"  NETGALLEY REVIEW, TEACHER
"[Tom Palmer] deserves every accolade bestowed" NETGALLEY REVIEW, LIBRARIAN
"There are many books about WWll, but I feel like this one gives an interesting perspective. I definitely would have loved this novel as a tween/teen and I really enjoyed reading it now as a young adult … Fast-paced, compelling and very touching" NETGALLEY REVIEW
"Full of such rich descriptions and vivid imagery … I could have jumped into the pages myself … I have read many books set during World War Two and this is one of the best I have read" NETGALLEY REVIEW
"Heartbreaking and uplifting at the same time …. Educating and entertaining in a way only Palmer can" NETGALLEY REVIEW
Buy Books
Signed and dedicated copies of all my books are available personalised to order from my local independent children's bookshop "The Thoughtful Spot" here. 
With an extra special Christmas or birthday card from me on request!
Overseas :
Australia: Boomerang
Canada: Amazon Canada
New Zealand: Wheelers
USA :  Indigo books
Visit my
 bookshop or support your local bookshop HIVE
Schools bumper 33 book pack
offer here
33 books
£194 saving £63 – over 25% discount
FREE DELIVERY & SIGNED BOOKPLATES
Please email rosie@rosemaryhillbooks.co.uk
Schools class set offer here.
15 copies 20%+ discount
30 copies 25%+ discount
100 copies 30% + discount
FREE DELIVERY & SIGNED BOOKPLATES
Please email rosie@rosemaryhillbooks.co.uk for a quote
Email me here for more information or use my contact form here to ask me a question.
Thank you.