A NEW ERA KICKS OFF! Roy of the Rovers, the classic British children's football hero rebooted for the 21st century!  An exciting new series of middle grade fiction back to back with comics.
Fiction written by Tom Palmer
Graphic novels by Rob Williams & Ben Willsher
Published by: Rebellion Publishing
Signed and dedicated copies of all my books are available personalised to order from my local independent children's bookshop "The Thoughtful Spot" here.
"Tom Palmer is a true reading hero and has been responsible for motivating many thousands of young people to get into books" Booktrust
NEW FOOTBALL FICTION :  Game Changer
The latest book in the Roy of the Rovers series, "Game Changer" out 23 June 2022.
The newly formed Melchester Women's team are going from strength to strength in their first full season of professional football, lead by the tenacious Rocky Race. Can she maintain her match-winning performances? And just where does her footballing future lie?
Order a signed and dedicated copy of Game Changer and all my books from my local independent children's bookshop "The Thoughtful Spot"  here.
Activities
Roy and Rocky of the Rovers Writing Kit.  A set of eight activities designed to engage football fans with different aspects of writing using passion for the game as a way in.  Free download from here.
Catch up with my Facebook Live chat on https://www.facebook.com/RoyoftheRoversOfficial/ here when I talked about my first Roy of the Rovers book, Scouted.
Powerpoint – Roy has to fit his school life and training around acting as young carer for his dad whilst his mum works to support the family.  This powerpoint explores the role of young carers. Suitable for literacy / phse here.
Prose & Comic worksheet
Using Comics to develop writing skills
here 
Certificate
If any of your pupils have read all the books so far, we'll send you free signed certificates here
Colouring
Sharp-shooter Rocky is testing her brother Roy's goal-keeping skills. Can you add a crowd or maybe some more players and colour them all in here?
A picture of Roy to colour in and design a new football kit for Melchester Rovers here.
Learn to draw Rocky with Lisa Henke here.
Womens World Cup 2019  Live Story
Read my free real time story set at the Women's Football World Cup, with the National Literacy Trust, Rebellion and The Football Association.  Readers can follow the adventures of Rocky Race, her brother Roy and her football coach Ffion travelling around France to cheer on the Lionesses.  Catch up on the full 2019 story here
EURO 2020: A Ghost Story
Read free real time story set during the Men's EURO 2020 based on the popular Rocky and Roy of the Rovers characters and brought to you by the FA and National Literacy Trust.  Catch up here
Read about Roy's fell running from the latest edition of The Fellrunner, illustrated by Lisa Henke here. 
Originally published in The Fellrunner, the magazine of the Fell Runners Association (issue #126, spring 2020).  Thank you for letting us share it.
My family have been proud members of the Fell Runners Association for a number of years.  Find out more about what they do and how to join them here.
Poster Download here.
Or for a FREE Roy poster pack  email "Roy poster pack" to admin@tompalmer.co.uk
Watch Rocky & Roy's whistlestop tour of some real football clubs.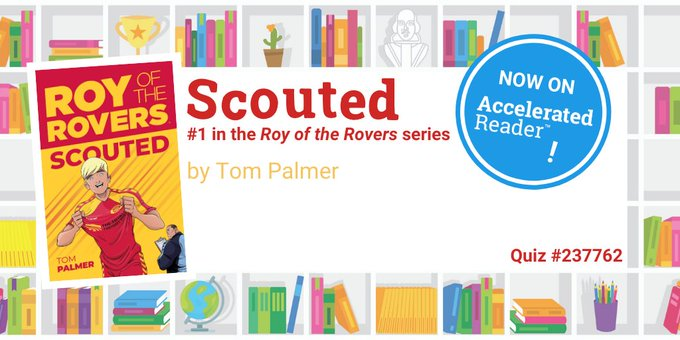 Season 1 (illustrated by Lisa Henke)
1 Scouted (fiction) – read Chapter 1 here
2 Kick Off (comic) – available
3 Teamwork (fiction) – read Chapter 1 here
4 Foul Play (comic) – available
5 Playoffs (fiction) – read Chapter 1 here
6 Going Up (comic) – available
"Just finished @royoftheroversbook 1 by@tompalmerauthorA wonderful book about pursuing your dreams whatever your circumstances. I love how Tom covers football alongside real life issues that some of our children face today. #welldone" @emmasuffield School Librarian of the Year 2018
Season 2 (illustrated by Lisa Henke)
7 On Tour (fiction) – read Chapter 1 here
8 From the Ashes (fiction) – read Chapter 1 here
9 Rocky (fiction) – read Chapter 1 here
"Rocky is a brilliant role model for girls and boys alike, showing that there is always a way through life's challenges if you keep going and never give up." Kate Heap
10 Sudden Death  (fiction) – read Chapter 1 here
Fiction 1 : Scouted
Times are tough for Melchester Rovers. Languishing at the bottom of League Two, the once-proud powerhouse of British football is out of money and out of luck.  The epic footballing saga begins here!
Sixteen-year-old Roy Race always dreamt of playing up front for Rovers. Oozing with natural talent and possessing a powerful left foot, Roy may just be the answer to all of Melchester's prayers.
Can Roy break into the Rovers first team and bring back the glory days of old? Or will the pressure of problems on and off the pitch prove too much for the young prospect?
Read Chapter 1 of Scouted here
Buy Scouted here
"Scouted has everything that a football fan needs… match day action, local club rivalry, modern football politics, trials, crunching tackles, tricks, misses and goals. But this is much more than a book about the beautiful game, because it also has everything that today's children need as they grow up. It is jam-packed with positive role models, girls involvement in Women's Football, respect, mental well-being, good work ethic, education and aspiration. Tom Palmer expertly weaves all of this together with friendship, family and a great little plot."   Books for Topics 
Fiction 2 : Teamwork 
The second installment of the brand new series of illustrated middle grade fiction titles starring Roy of the Rovers, the classic British children's football hero rebooted for the 21st century!
Roy Race has it all: all the skill, all the talent, and all the eyes on him now he's broken into the Melchester Rovers first team at only 16 years old.
Except, of course, there's more to life than football. His dad's in a wheelchair and needs looking after, his mum is working all hours, and his sister? His sister wants to play football too, and she won't leave Roy alone until he helps her do something about it…
Read Chapter 1 of Teamwork here
Buy Teamwork here 
"Can't endorse these books enough. They've given a legend a brilliant new lease of life and are absolutely PACKED with heart. " Phil Earle
Fiction 3 : Playoffs
Crunch time for Rovers: the end of the season is here, the club is in deep trouble, and it's down to Roy to bring a bit of hope back to the Melchester faithful.  The new era of Roy of the Rovers continues!
Read Chapter 1 here
Buy Playoffs here
"Packs a lot of punch in its short and simple to read pages… It captures the feel of playing and having a passion for football at an early age very well. More than that it sets out the stall of the new Roy Race, his family background, his friends and enemies, where he lives and his work ethic." – Comic Scene Magazine
Fiction 4 : On tour
Illustrated by Dan Cornwell
This fourth volume of the smash-hit phenomenon reboot sees the start of an all-new second season!
Roy Race is living the dream. After a whirlwind season that saw him become centre forward for his beloved Melchester Rovers and score a bagful of goals, helping them secure promotion into League One, he's now recognised as one of the best young footballers in the country.
But something strange is afoot. As Rovers head off on a pre-season tour, Roy's treated differently, and kept apart from the team. What's going on, and why are Rovers bringing in new players?  With his family life hitting a rough patch and everything in flux at Mel Park, it's time for Roy of the Rovers to fight for his team, his family – and his career in football…
Read chapter 1 here
"I give it 5,000,000 stars! I recommend it to 9+ football fans but also non-football fans. I'm not a football fan but I still really enjoyed reading this book. Look out for the graphic novels and the rest of the series. Amazing!" – The Book Brothers
Fiction 5 : From the Ashes
Roy Race has the world at his feet. He's playing Premier League football, earning plenty of money, has a great girlfriend, and things are even looking up at home.
The only problem is, he's not playing for Melchester Rovers. And the club he loves, the club he has supported all his life, the club that, until recently, he played for, is falling apart. Mel Park lies in ruins.
Dodgy backroom deals brought Rovers low, and now Roy is determined to find a way back to his old club – and to lift it out of the mess it's in. But he might have to break a few rules to do it…
Read chapter 1 here
"Football-lovers will love the description of on-pitch action which is pacy yet satisfyingly detailed. This is a book that I am looking forward to putting on the shelves at school – I know already that it will be a popular title amongst our football-loving children (not just boys!)."  That Boy Can Teach
FICTION 6 : Rocky of the Rovers
Rocky is the sixth and historic book in the brand new series of illustrated middle grade fiction titles starring Roy of the Rovers, the classic British children's football hero rebooted for the 21st century. This time, it's all about Rocky, Roy's football-mad younger sister!
A struggling student and brilliant footballer, Rocky Race is many things, but to most people she's just Roy Race's little sister. It's not much fun – especially as Melchester Rovers head to the League Cup Final.
Rocky's sick of everyone knowing her through Roy, she's had enough of school, and she's even started having panic attacks.
Now it's up to Rocky to find her own way – as a person and a player – and she's going to need all her grit and determination to do it…
'I LOVED this book! I love how the story turns from one stage to another. I would definitely recommend it to any girl who enjoys football! I love that Rocky has real determination and passion for the game.' Jess, Year 5.
"Tom Palmer's love and knowledge of football is evident in the writing yet he also includes themes of family, anxiety and teenage worries. This is the sort of book that could turn a football fan into a reader and a reader into a football fan. " A Library Lady
Read Chapter 1 here
FICTION 7 : Sudden Death
After a dramatic season that saw Roy Race and teammates suffer a heart-breaking loss in the League Cup final, their beloved stadium burning to the ground, and an ownerless Rovers on the brink of being shut down, things were looking bleak despite securing promotion to the Championship…
A fresh season brings fresh hope with dedicated new owners, intent on rebuilding Mel Park and restoring Melchester Rovers as one of the biggest clubs in Europe, in both the men's and the women's game!
But a new start means new challenges for Roy, Rocky, their family, and their teammates, and with Roy's Dad's condition getting worse, things aren't about to get any easier both on and off the field…
"I've just finished devouring this, an absolutely incredible read" @THEsharpey.
"Sudden Death: A Roy of the Rovers Novel is perfect for football lovers who are looking for something more in the stories they read. Challenging and honest, it will build empathy and inspire." Kate Heap: Scope for Imagination @KateHeap1
Read chapter 1 here
Writing Roy of the Rovers
I'm thrilled to be writing a new series of middle grade fiction for the ROY OF THE ROVERS reboot with internationally acclaimed comics writer Rob Williams (Suicide Squad, Superman: Action Comics) and artist Ben Willsher (2000 AD, Doctor Who Magazine)
Millions of girls and boys dream about being their favourite football player and being scouted and playing for their favourite team. I had that dream. Sadly it didn't come true for me.
But, being scouted and succeeding in my trial to write Roy of the Rovers fiction is a dream that has come true. There is no other fictional footballer I would rather be and write. And I intend to write these books with the same passion and commitment  Roy shows when he pulls on the red and yellow of Melchester Rovers! 
Read a Q&A with the Rebellion team behind rebooting  Roy here 
Listen to our Totally Football Show podcast here
Roy of the Rovers Schools
Congratulations to Cotmanhay Junior School and Rose Hill School for achieving official Roy of the Rovers School status!
For more information contact @royoftherovers
Buy the Books
Signed and dedicated copies of all my books are available personalised to order from my local independent children's bookshop "The Thoughtful Spot" here.
Keep in touch with how the series is progressing and get a newsletter reminder when it is out, email "Roy Reminder" to admin@tompalmer.co.uk .