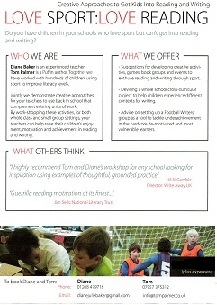 I regularly provide literacy training and keynote speaches for schools and libraries both across the UK and internationally through organisations like the British Council.
"I recently saw you at the Reading for Pleasure Conference run by the Guardian/British library where I picked up your information pack. Your slot was the most interesting and relevant one for me on the day and I am looking forward to adopting some of your ideas!" Librarian, Acton High School
I can offer training days exploring creative approaches to get kids reading and writing including :
Suggestions for developing creative activities, games, book groups and events to enthuse reading and writing through sport.
Devising a whole school cross-curricular project to help children experience different contexts for writing.
Advice on setting up a Football Writers' group as a tool to tackle underachievement in the hardcore de-motivated and most vulnerable learners.
Olympics 2012
Teacher Diane Baker & I developed a new training course around using the Olympics to promote literacy using our specialisms in teaching and writing.
"Tom and Diane are a formidable team and a great advert for what can be achieved when writers and teachers work together to support young readers and writers. What they have achieved in Diane's Basildon school is impressive. They have transformed the hardest to reach students into enthusiastic and engaged learners with a real sense of purpose and audience for their writing. Reading is now a pleasure rather perceived as a chore. The workshop that they ran for us at the Write Away annual conference was highly valued by participants many of whom wrote after the event to express appreciation and to tell us how it had impacted on their own work. I highly recommend Tom and Diane's workshop for any school looking for inspiration using examples of thoughtful, grounded practice." Nikki Gamble, Director, Write Away UK
"A great day that the staff really enjoyed and found inspiring. Looking forward to seeing Tom again in April." Nick Alford, Glebe Junior And Infant School

"It was a truly successful day all round." Pauline Thresh, Leeds School Library Service Manager
Email me for more information here or use my contact form here.