My Football Academy books are about a Premier League under-twelve side – about what it's like to play the game at the top.
"We can't recommend this football series enough!"  Bringing up Boys 
Find out more about the six books in the Football Academy series listed in reading order here: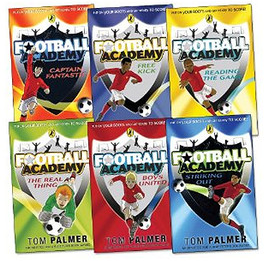 1 Boys United
2 Striking Out
3 The Real Thing
4 Reading the Game
5 Free Kick
6 Captain Fantastic
"Packed with football action and great off-field story lines, Tom Palmer's books are often cited as the reason a reluctant reader turned into a book-lover!" TheSchoolRun
Signed and dedicated copies of all my books are available personalised to order from my local independent children's bookshop "The Thoughtful Spot"here.
NEW Kindle book
Teamwork is the prequel to my 100,000 selling Football Academy series, published by Puffin.
Before Jake, Yunis and the other United U12s play against the top teams in England, they are taken on a club trip to the Bernabeu to play the mighty Barcelona. But – with the team struggling to get on off the pitch – how will they get on on the pitch.
And who is the small footballer with the number 10 on his back who seems interested in watching Barcelona v United.
Free to Kindle Unlimited, RRP 99p  Read it now here.  
Football Academy Series
Experience life as a Premier League academy player.  Follow United FC through a season where they have to play at Liverpool, Chelsea and against Real Madrid.
And find out who makes the grade: and who doesn't.
Ryan is the team captain – so why does he bully his team mates?
Yunis is the star player – so why does his dad want him to give up football?
James is the son of an England international – so why does he start making terrible mistakes?
The Football Academy series is illustrated by Brian Williamson.
Read more about the players here.
---
Certificates
I have certificates I can sign for readers of all my Football Academy  series.  Tell me here if you've read the whole series and you can receive a special signed certificate.
---
Read first chapters by clicking on the covers below:
More free reads here.
---
Football Readers Pack
Includes six posters with new ideas to encourage reluctant readers to read for pleasure, featuring real reading boys from across Britain, Ireland and Australia. Based on the Football Academy series.
Download here .
"WOW! It's brilliant.  Our boys will love it" Librarian, QEGS
"I think pupils in the academy will definitely love it " Librarian, Oldknow Academy
---
Free Story
Read "The Scout " – How Ronan and Connor from the Football Academy series came to join Premier League United here.
It is a free story written for the National Literacy Trust.
---
Football Academy ages 7 plus – quizzes and films
More Literacy resources here.
---
Football Academy Awards and News
2009 Football Academy 1 : Boys United shortlisted for Doncaster Book Award
2009 Football Academy 3 : The Real Thing longlisted for The Fantastic Book Awards (F.B.A), organised by Lancashire School Library Service.  More awards here.
Here are the team at Peterborough United Football Club reading Football Academy Reading the Game …
More videos here.
---
Translations of Football Academy:
---
Interview with Tom Palmer about writing Football Academy

'I wanted to get the series right,' Tom says. 'If I was going to write a book about being part of a football academy at a Premier League club, it needed to be accurate.'
So Tom went to his nearest football club, Burnley FC, now in the Premier League. He asked if he could watch the under twelve's play to give him some ideas.
'But Burnley did more than that,' Tom went on. 'They let me talk to the players. And their parents. And then the head coach answered all my questions. They were wonderful. I hope that means this series is as close as you can get to what it's like playing for an academy like that.'
"These books have made many anxious parents, who have been struggling to get their sons to read, sigh with relief. We have heard many stories about reluctant readers, who have been extremely loath to pick up a book, yet once they started reading the Football Academy books they were hooked." www.bringingupboys.co.uk/football-academy-tom-palmer/
---
Real Reader Reviews
Pupils at Fendalton Open-Air School in New Zealand have been reading Football Academy.  You can read Sam's review here.
"I read Reading the Game and Captain Fantastic and I think they are super. I am going to get the rest from the library." from Duncan Ewen Brown (age 7 on Monday)
"I loved Boys United. I'm buying the rest of them. They're the best books I've read."Aaron, Manchester
"It is fun, exciting and realistic and doesn't keep you in for too long when you could be out in the park practicing penalties with your mates."The Book Bag
"this book is one of the best books I've read so far… you will probably like it if you are 7-12 and into football."Amazon Books
"these books are perfect for my class…. they hang on every word" Teacher, Essex
"I would pass around 'Boys United' because it is action-packed and brilliant! It gave me information about football and got me more into it. My favourite part was that Jake never gave up. Ryan made his life miserable but Jake helped him to be a kinder person and in the end they learned to work together. This book is suitable for boys and girls aged 7- 12."Anna, Joshua, William and Kyle; Y3/4 Middleham CE VA School

---
Amazon Reviews of the Box Set
5 out of 5 stars Great stories for getting boys excited about reading, 19 May 2013 By A Taft
"My son has loved this entire series and I would really recommend it for anyone who is looking for ideas of how to get boys reading. My son started reading them when he was seven, but still goes back to them now aged 9."
5 out of 5 stars Excellent stories for boys aged 8+, 13 April 2013 By lethomas
"A pack of 6 stories based on a football team. Each one follows a player of the team. The boys in my class love them and are always swapping their books and recommending Tom Palmer to each of their friends! Great for promoting reading for pleasure in boys who are difficult to engage and encouraging book talk."
5 out of 5 stars Fantastic, 15 Mar 2013 By Linda
"Bought the set for my sons 10th birthday. He is sport mad & loves these books so much he's on the final one already."
5 out of 5 stars Fantastic for young football fanatics, 4 Mar 2013 By Mrs. Rjy Dickinson
"My football mad 6 year old son just loves these books – we read them together for a bed time story and he is really enjoying them. Perfect!"
5 out of 5 stars Football academy success, 6 Jun 2011 By k
"I am a class teacher and Tom Palmer came in to speak to my class they loved it and therefore I bought the books which they are really keen on and have been a great success."
Tell me here what you thought about Football Academy.
---
Buy the Books
Signed and dedicated copies of all my books are available personalised to order from my local independent children's bookshop "The Thoughtful Spot" here.
Football Academy 1: Boys United  Amazon
Football Academy 2: Striking Out  Amazon
Football Academy 3: The Real Thing  Amazon
Football Academy 4: Reading the Game  Amazon
Football Academy 5: Free Kick  Amazon
Football Academy 6: Captain Fantastic Amazon

PRIVACY & COOKIES POLICY                            TERMS & CONDITIONS