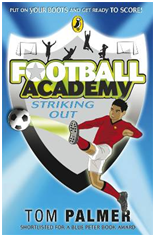 Book 2 in the Football Academy series.
Yunis Khan is the star of Striking Out.  He is a seriously good striker, who has joined United this season, along with Jake from book one, Boys United.
But Yunis has a big problem.  His dad hates football.  Or he says he does.  And he wants Yunis to spend more time doing homework then playing football.  Even if he is a United player.
Yunis wants to do well at school – and he wants to be a footballer.  So he starts getting up in the night to do his school work.  To keep his dad off his back.  But, because he's tired all the time, things get worse. And then his dad puts his foot down.
Read the first chapter of Striking Out here.
Watch me read from Striking Out and ask quiz questions here.
Find out more about the other books in the Football Academy series here.
Available from your local library, bookshops, Amazon and Kindle.
Published by Puffin Books.
NEW Kindle Football Academy book
Starting at just 99p this summer.
Football Academy : Teamwork is the prequel to my 100,000 selling Football Academy series, published by Puffin.
Read it now here 
Player Profile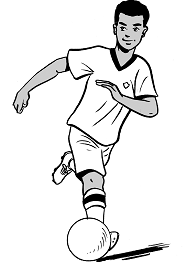 Name: Yunis Khan
Age: 11
Position: striker
Best friend on team: Jake
Interview with Tom Palmer about writing Striking Out
Why does Yunis' dad hate football so much. Did your dad hate football?
No. My dad was okay with football. Although it was mum who took me to my first 50 games. Yunis' dad is complicated. You have to read the book to find out about him and football. His big worry is that his son does well at school. He thinks school is really important. And I agree with him on that. It's just he has to let his son have a bit more freedom.
Your mum took you to the football?
She did. It was nice. It was good time together. I think that's part of why we were so close. I started going on my own when I was 16. But we watched Leeds win the league together in 1992. I remember crying with happiness and seeing her crying too. Sadly she died the next month. But I'm glad she got to see us win the league.
And did she make you work hard at school?
She tried. But, to be honest, I was weak at school. I didn't like reading and I think that makes things harder. She got me reading football in newspapers and in magazines and that ended up getting me into reading.
Tell me here what you thought about Striking Out.
Buy Books
Football Academy 2: Striking Out  Amazon
Email me here for more information or use my contact form here.