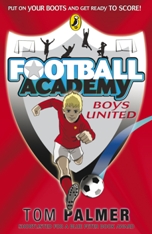 Book 1 in the Football Academy series.
Left-winger Jake Oldfield is the hero.
Jake plays for his village team.  He is good enough to play at a much higher level, but, whenever he has a trial at a professional club, they tell him 'You're good: but you're too small.'  With his dad's support, Jake keeps trying and one day, he gets offered a trial at Premier League United.  And what could be his last chance…
Read the first chapter of Boys United here.
Watch me read from Boys United and ask quiz questions here.
Find out more about the other books in the Football Academy series here.
Signed and dedicated copies of all my books are available personalised to order from my local independent children's bookshop "The Thoughtful Spot"  here.
Available from your local library, bookshops, Amazon and Kindle.
Published by Puffin Books.
NEW Kindle Football Academy book
Free to Kindle Unlimited / RRP 99p.
Football Academy : Teamwork is the prequel to my 100,000 selling Football Academy series, published by Puffin.
Read it now here 
Player Profile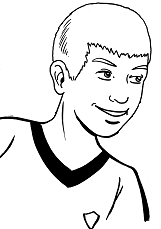 Name: Jake Oldfield
Age: 11
Position: left midfield
Best friend on team: Yunis
Awards
2009 Football Academy 1 : Boys United shortlisted for Doncaster Book Award
Interview with Tom Palmer about writing Boys United

Why did you write a book about a boy trying to get into a Premier League academy, Tom?
I've read loads of footballer's autobiographies – and I love it when they talk about how they were taken on by their first professional club. Rooney's is good for that. Beckham's too. It's so hard to get chosen to play at that level, so I wanted the first book in the series to show how tough it was and how it really helps a player if he has a parent really backing him.
Are dads important in the Football Academy series?
They are. I write a lot about dads and how they get on with their sons. When it comes to playing football at this level, how the parents back the boys is vital. The dad is a big character in the Football Play books too.
Why are you so interested in dads?
I had three dads, sort of. And it was all a bit chaotic. When you have dads, then don't, it can be a bit difficult. And now I am a dad, as well. I have thought a lot about it. Jake is lucky his dad is right behind him. In Striking Out and Captain Fantastic, the mums and dads are a tougher on their children. I try to be as a good a dad as I can. I think I can learn a lot from Jake's dad.
Reviews
"Boys United does exactly what it says on the tin – provides a simple story of footballing action that is immediately recognisable to all its readers, is fun, is exciting, is accurate and realistic, and doesn't keep you in for too long when you could be practising penalties in the park with your mates. >And it was absolutely perfect for this reviewer's number two son, who, like Jake, doesn't set that much store by reading, is short for his age, plays on the left wing, and dreams of providing the cross for the winning goal in the World Cup Final." Jill Murphy http://www.thebookbag.co.uk/reviews/index.php/Boys_United_Football_Academy)_by_Tom_Palmer
Tell me
here
what you thought about Boys United.
Buy the book
Signed and dedicated copies of all my books are available personalised to order from my local independent children's bookshop "The Thoughtful Spot"  here.
Football Academy 1: Boys United  Amazon
Or on Kindle
Email me here for more information or use my contact form here.