I visit hundreds of bookshops, schools, museums, libraries and festivals each year.   Given the current situation, I have less public events this year but you can still …
Join me on 12 September …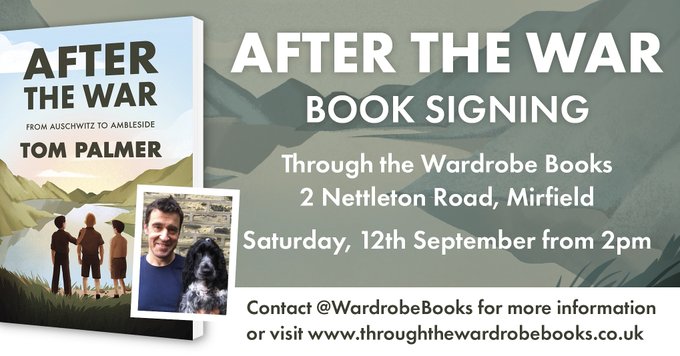 And I'm at Cheltenham Literature Festival – Mon 5 Oct 8:00am – 8:40am
Brave the weather with Tom Palmer as he tours the settings of his book, After the War. From the hills over Windermere and aboard a small boat on the lake, Tom explains how he researches a book by allowing you to enjoy one of England's most beautiful landscapes, while hearing the story of three boys who survived the Holocaust, arriving in Cumbria to rebuild their lives following World War II.
More here :https://www.cheltenhamfestivals.com/literature/whats-on/2020-/tom-palmer-after-the-war/
More Autumn 2020 events to be confirmed.
Contact me here, use my contact form here or click on the green direct links for more information about tickets, venues and timings.
Festivals
I love working with bookshops and festivals. I was a bookseller at Waterstones. Then I set up and ran Bradford Book Festival for Bradford Libraries and stepped into to manage Ilkley Literature Festival for a short time. Now I write children's books I really enjoy meeting festival visitors, volunteers and staff.
Read my blog from County Meath Children's Book Festival by clicking here and why I think we need more Literary Festivals here.
Here are some of the lovely responses I have had from working at festivals:
"Thank you so much for all your time and energy and of course a fantastic event!" Bath Kids Lit Festival
"Just to let you know the response from some of our students to Tom Palmer's event at Beverley Festival …
"Really enjoyed it , can we have him back in school"
"Miss. You haven't got these two titles of Tom Palmer — can you order them?"
Their enthusiasm was fantastic, they made a special journey to tell me about Tom's event and then they took some books out. " Beverley Festival
"I just wanted to write to say a very big thank you for all your work in the Leeds schools last week. Really pleased to hear it all went well and we're so grateful for your valuable support and work in what is an extremely valuable education programme."  Harrogate International Festivals
"Tom Palmer's exciting adventure Foul Play set in the world of football was our best-seller following his appearance at the Hebden Arts Festival." Bookcase, Hebden Bridge
"Thank you so much for joining us in Hay this year. Your event went down a complete storm and drew in lots of boys who had never been to the festival before." Sophie Lording, Hay Festival
"Tom Palmer's Football Family Fun Day event as part of the Off the Shelf Festival was brilliant. The girls and boys taking part thoroughly enjoyed themselves and Tom was full of enthusiasm for reading, writing and football which inspired the young audience. We will definitely be booking Tom for next year's Festival."  Lesley Webster, Off the Shelf Festival of Writing and Reading, Sheffield
Email me here for more information or use my contact form here.