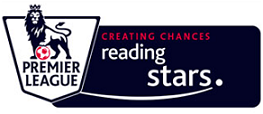 "Good luck to all the pupils, teachers and librarians taking part in this year's Premier League Primary Stars."    
I wish I could have taken part in something like this when I was young.  I wasn't a keen reader, but thankfully my mum used my love of football to get me into reading.  I'm now the author of over fifty children's novels for Puffin Book and Barrington Stoke books. 
"Tom Palmer is a kind of missionary sent by the Premier League." Daily Mirror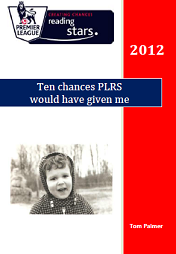 I am a proud supporter of the National Literacy Trust's Premier League Primary Stars scheme.
Read my short article about how I think Premier League Primary Stars would have changed my life here.
Learn more about this fantastic scheme from the National Literacy Trust that uses the power of football to promote reading for pleasure here.
My Football Books
Football Academy series
Foul Play series
Roy of the Rovers series
Rocky of the Rovers series
Defenders series
Wings series
Secret FC
Over the Line
My Latest Football Books – Rocky of the Rovers
Roy of the Rover's sister Rocky Race is not your average fourteen year old. She's determined, ambitious and the best football player you've ever seen.
So, in Book 1, 'Rocky Takes LA', when she gets a once-in-a-lifetime opportunity to attend a prestigious soccer camp in California, USA, she takes it. But far from home, Rocky suddenly finds herself out of her comfort zone. Fake friends, her own anxieties and a brand new world with strange rules all threaten to derail her new life before it's even started – does Rocky have what it takes to succeed?
Pre-order on Amazon here
Pre-order Signed and dedicated copies of all my books are available personalised to order from my local independent children's bookshop "The Thoughtful Spot" www.thethoughtfulspotbooks.com/product-page/the-soccer-diaries-book-1-rocky-takes-la
Preview Chapters 1 & 2
More FREE Reads
"The best time I remember from my primary school was when our teacher read the Foul Play World Cup Mystery out to us. I'll never forget us all listening together every morning and worrying about what would happen to Danny if England won!" Kylie
The Scout
Read here a Year 3-4 short story about how Ronan and Connor from the Football Academy series came to join Premier League United.
Find out more about the National Literacy Trust.
---
The Character Strikes Back
Read here  a five-part Foul Play short story for Years 4, 5 and 6.
"We are reading 'The Character Strikes Back' this week, and SO enjoying it! They love the cliffhangers each day and beg me to read on…"
"Reading Tom Palmer's short story 'The Character Strikes Back' to my Y3/4 class was as delightful an experience for me as a teacher as it was for my young listeners, who truly learned the meaning of a 'cliff-hanger'. Writhing in a delightful agony of suspense and anticipation at the end of each day, their desperation to find out what happened next informed many discussions and some marvellous predictions. Parents even called the school to find where they could buy the book their children couldn't stop talking about!" Catherine Monaghan, Y3/4 Teacher, Middleham CE VA School
---
Maybe Football is Exciting – Charlotte's Diary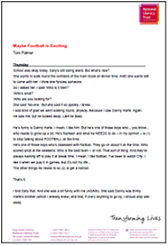 Read here  a Year 6,7 and 8 short Foul Play story written for the National Literacy Trust.
"I just finished reading the Danny Harte story online (I read it all at once because I couldn't wait to find out what happened next) I really really enjoyed it!! Thanks" Sophie
---
Diary of a football detective
FREE Follow 14-year-old football detective Danny Harte's weekly adventures throughout the 2017-2018 football season with the National Literacy Trust here.
#allreadingmatters
"I just finished reading the Danny Harte story online (I read it all at once because I couldn't wait to find out what happened next) I really really enjoyed it!! Thanks" Sophie
---
Videos
Try the Premier League Reading Star Foul Play challenge with Swansea City's Nathan Dyer here.
Watch Liverpool FC player Adam Lallana talk about reading Over the Line for Premier League Reading Stars here.
Resources
Download here
a player profile poster of England team's Adam Lallana who recommends Over the Line.   
Find out which is your favourite footballer's top book here.
News
I recently hosted my Football Reading Game for Premier League Reading Star schools at Arsenal Football Club with Theo Walcott and Her Royal Highness The Duchess of Cornwall.
"What a fantastic day! Tom informed and entertained the pupils in equal measure with his interactive assemblies.  The children were inspired by his stories and motivated to follow in his footsteps-a MUST for every  primary school!"  Neil Homer, Primary School Teacher and Education Project Leader, Shrewsbury Town In The Community 
Email me here for more information or use my contact form here.

PRIVACY & COOKIES POLICY                            TERMS & CONDITIONS