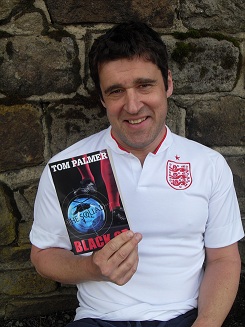 Book 1 in The Squad series. International espionage and football action combine when these teenage spies are sent to the world's toughest trouble spots, going undercover with the England youth team.  In the first book The Squad –  Lily, Lesh, Hatty, Adnan and Kester – are sent to Krakow, Poland just before the Euro 2012.
Read from the first chapter of Black Op here.
Watch the amazing Black Op book film trailer, made for me by Arun Hawkes here.
Learn more about reading and writing The Squad with Literacy Resources here.
Signed and dedicated copies of all my books are available personalised to order from my local independent children's bookshop "The Thoughtful Spot"  here.
Available from your local library, bookshops, Amazon, Kindle, iTunes.Published by Puffin Books
(Accelerated Reader Quiz No: 222026, Points 6.00, Book Level 4.90,
Middle Years Plus, Ages 12 Plus)
"Reading "Black Op" is like sprinting. Once you open the pages, you are desperate to rush through them to find out what happens next in this exhilarating read." Humanities 360′
Awards
Black Op won the 2013 Solihull Children's Book Award and was  longlisted for the 2013 Leicester Libraries Our Best Book Award
More awards here.
News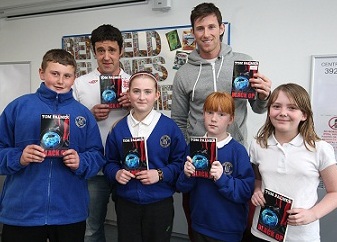 I launched Black Op with Newcastle United's Mike Williamson and children from Benfield School.
Benfield School's  Librarian said: "Thanks so much for a very energetic, entertaining and engaging session yesterday. The kids loved it and I've had a lot of comments this morning from them – 'awesome', 'you're wicked' and 'mintage' they were pretty emphatic. I've also had kids in today asking for your books which is great."
Read my special Squad story Black and White Op written to celebrate the launch of The Squad series for Newcastle Libraries here.
Children from Ghyllgrove Junior School in Basildon interviewed me about writing Black Op
Why is your new book called Black Op?
It's about five children who do a black op spying mission. Black Op means it's a mission no-one is supposed to know about. I know the game Black Ops is popular, so I thought I'd make the book a bit like that.
Is Black Ops your favourite video game?
No. I prefer FIFA 12.
How come you work with Premier League?
I help the National Literacy Trust with a reading scheme called Premier League Reading Stars (literacytrust.org.uk/premier_league_reading_stars ). Famous footballers have recommended their favourite books to children, then set challenges for the children to complete. Players like Wayne Rooney and Jamie Carragher have been involved.
What happens in Black Op?
A group of child spies use playing for an England youth team as their cover story. They are sent to Krakow in Poland to stop terrorists attacking the England football team.
Is there a sequel?
There is. And it's free. I'm doing a free online story for schools, with an episode every day during Euro 2012 featuring the characters from Black Op. They'll be charged with stopping another catastrophe. You can read it at www.literacytrust.org.uk .
Who do you think will win Euro 2012?
Germany. (Though I want England to win it, of course.)
Why Germany?
They are great at tournaments. I think they'll meet Spain in the final and win in extra time, using their physical game to shut the Spanish down. Holland could easily have won the 2010 World Cup final playing that way.
Why is Black Op linked to Euro 2012?
It's set just before the tournament. I think that one of the most exciting parts of a tournament is beginning, when anything is possible. Also, I love Poland and Krakow, where the England team are based. I went to Krakow in 2011 to research the book and it includes lots of real places that the England players will be seeing.
If you were compared to any writer, who would it be?
It's hard to say. I like to think that Black Op is like Anthony Horowitz crossed with my Foul Play books. I think Horowitz is a great writer. I love all his Alex Rider books.
Read my blog from my research trips to Poland here.
Ask me your questions about Black Op here.
Real Reader Reviews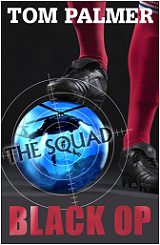 "This is another breathtaking book from the world wide selling author Tom Palmer. This book has everything, combining spies and football it makes compulsive reading. Lily, Lesh, Adnan and Kester are 13 year old children who are very close to each other and when they come together they make the squad. But when they face their biggest mission yet, how will they get on? This book is a real page turner and like a great footie game you don't want it to end. Tom Palmer at the top of his game!!!" Charlie Stanley-Clarke aged 10
Black Op is a brilliant book as it is an exciting and descriptive read. It is a five star book and I can't wait to read the second book in the series, White Fear. Aodhan Furlong
A funny, intriguing, gripping storyline with amazing, highly detailed characters can only lead to one thing: Tom Palmer. One of the best books I have ever read. I highly encourage you to buy it. Lewis Bolding
"To people who are thinking about buying this book, i can't say it enough. It is a must! Tom Palmer is a fantastic author, who has a brilliant style and is a big role model to kids of all ages. I really do recommend this book!!" Tom Neild

Tell me here  what you thought of Black Op
Buy the books
Signed and dedicated copies of all my books are available personalised to order from my local independent children's bookshop "The Thoughtful Spot"  here.
The Squad 1 : Black Op Amazon
The Squad 2 : White Fear Amazon