Try first chapters from The Squad by clicking on the covers below:
Read my extra story Black and White Op written to celebrate the launch of The Squad series for Newcastle Libraries here.
Poster
Accelerated Reading Scheme
Black Op, the first in my Squad series, years 6-8, has been selected for the Accelerated Reading Scheme.
Watch their video of me reading Black Op here with a quiz to follow here.
---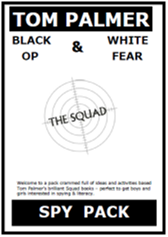 The Squad : Spy Pack a writing pack to accompany the Squad Series.  Includes:
MISSION 1 : SET UP YOUR SPY RING (or, forming a writing group for those who don't want to be in a writing group)
MISSION 2 : CREATING A SPY COVER STORY
MISSION 3 : BUGGING (or, writing interesting dialogue in fiction)
MISSION 4 : MIND READING FOR SPIES (or, how to describe characters to help tell a story)
MISSION 5 : GARBOLOGY (or, creating an effective setting by listing the contents of your teacher's bin)
MISSION 6 : INTERPRETING SURVEILLANCE PHOTOS (or how to piece together an interesting narrative structure)
FINAL MISSION : THE SPY CHALLENGE; Four real spying missions undertaken by Tom Palmer; Spy phrases you need to know
Download here.
"Thank you for all the work you put in to the pack. Loads of great ideas" Ruth Shallcross
---
The Squad Reading & Writing Pack
Tom Palmer interview
Poland : The setting for Black Op
Norway : The setting for White Fear
School And Library Football Reading ACTIVITIES
Top Ten Tips for Families to use Sport to encourage reading at home
Reading Comprehensions
School and library DISPLAY IDEAS
Football Book Review
Characters
Discussion Topics
Write Your Own Squad story
Design Your Own Squad Book Cover
Download here.
---
The Squad – reading quizzes
Find out more
International espionage and football action combine when these teenage spies are sent to the world's toughest trouble spots, going undercover with the England youth team.  The world's in danger and only The Squad can save us.

Buy the books
The Squad 1 : Black Op Amazon
The Squad 2 : White Fear Amazon