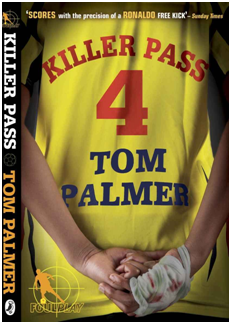 Book 4 in the Foul Play series.
Someone is breaking in footballer's houses. Danny is not happy that his City FC heroes are being robbed while they are playing away games in Europe.
But, in trying to solve this latest football crime, Danny is caught up more than wants to be when a photo fit of a boy is published in the local paper. A photo of Danny…
Read the first chapter of Killer Pass here.
Watch me read from Killer Pass and ask quiz questions here.
Find out more about the Foul Play series here.
Signed and dedicated copies of all my books are available personalised to order from my local independent children's bookshop "The Thoughtful Spot"here.
Available from your local library, bookshops, Amazon and Kindle.
Published by Puffin Books.
NEW Foul Play Kindle exclusive book
Starting at just 99p this summer.
Foul Play : The Danger Academy
Awards
2011 Foul Play 4 : Killer Pass longlisted for Doncaster Book Award
"Anton Holt" interviews Tom Palmer about writing Killer Pass

What inspired you to write this book?
For a long time, real footballers have been being burgled. I wondered what Danny would do about this. I wanted to see if I could make up a story where he could solve a crime very close to home, based not abroad.
Two of the characters in Killer Pass are former footballers. Why did you do that?
I have read about footballers and how they deal with life after giving up the game. A lot of players are not millionnaires when they hang up their boots and many don't do so well. I have a read about a few who get involved with crime. That really interested me. How could someone go from being a professional footballer to being in prison.
Charlotte helps Danny a lot in Killer Pass. Is the series becoming more about a team of football detectives than just Danny?
Yes. I like the idea of more than one of them solving crimes. Charlotte is a great character and I wanted to give her the chance to grow a bit. But, in the end, Danny is the lead detective.
Real Readers Reviews
"I think the first chapter of your new book is brilliant I look forward to reading the whole book" Tom Bell

"I have already bought Killer Pass and read it. It is very good and exciting, and definitely a page turner." Arun
"Hi this is Leon Wadee, I just wanted to say your book Killer Pass is brilliant."
"An excellent book for all readers, but in particular for reluctant readers, who need a good plot to grip them and then ease them through the reading process without realising it. Tom Palmer uses a clever subterfuge of making his main character – Danny – ordinary. It is Danny's fallibility that makes Tom Palmer's book – along with clever twists in the plot – dare I say it – a real page turner." Write Away
I have just finished reading the 4th book of your Foul Play series. And it was incredible! Each one took me a day to read! So I was finished in 4 days. I literally couldn't put the book down, it was like I was standing right next to Danny and when he was in a dangerous situation or his friends were in a dangerous situations my heart was beating so fast. I love reading and I have read a LOT of books, I have about 12 books on the go at the moment. But when I was reading The Foul Play series I was only reading that, I couldn't stop!! Thankyou!! Sophie
Tell me here what you thought about Killer Pass.
Buy Books
Signed and dedicated copies of all my books are available personalised to order from my local independent children's bookshop "The Thoughtful Spot"here.
Foul Play 1 Amazon
Foul Play 2 :  Dead Ball Amazon
Foul Play 3 : Off Side Amazon
Foul Play 4 : Killer Pass  Amazon
Foul Play 5 : Own Goal  Amazon
Set Amazon
Email me here what you thought about Foul Play and for more information about my books or use my contact form here.
PRIVACY & COOKIES POLICY                            TERMS & CONDITIONS