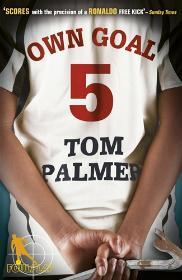 Book 5 in the Foul Play series.
Danny loves supporting his local team, City FC. So when everyone starts supporting the Italian team Forza FC, Danny is angry. His club is in jeopardy and needs their support. Danny decides to investigate the sudden popularity of the new team – starting with Forza's billionaire owner – and that's when the danger really kicks off. . . Can Danny uncover the sinister reasons behind Forza's success – and save City at the same time?
Read the first chapter of Own Goal here.
Watch me read from Own Goal and ask quiz questions here.
Find out more about the other books in the Foul Play series here.
Signed and dedicated copies of all my books are available personalised to order from my local independent children's bookshop "The Thoughtful Spot"here.
Available from your local library, bookshops, Amazon and Kindle.
Published by Puffin Books.
NEW Foul Play Kindle exclusive book
Starting at just 99p this summer.
Foul Play : The Danger Academy
Awards
2012 Foul Play 5 : Own Goal longlisted for Red House Children's Book Award for Younger Readers
Resources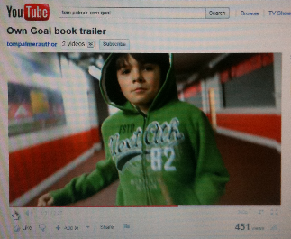 Watch the film trailer made by the Football Writers group at Ghyllgrove Junior School here
Read how Ghyllgrove Junior School made a film trailer for Own Goal at Charlton Athletic FC  here.
Read teacher Diane Baker's article "Filming a Book Trailer to Engage Readers: The Ghyllgrove School Football Writers" here
"Thank you for all of the help you have given me toward my attitude to reading. Thanks to you I am a bookworm and just can't stop reading and I can't wait to read your magnificent book. You cracked me up with your italian accent when you were chasing Jack down the hallway. We couldn't have done it without you. "Joe
Writing and Research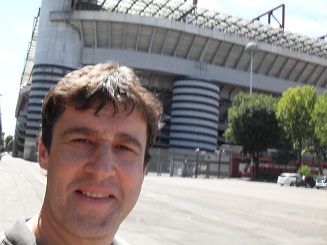 Read my blog about my research trip to Milan here.
Own Goal – Writer's Pack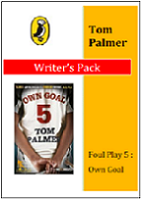 Learn about writing Own Goal here.
With six sections:  Research; Creating Characters; Themes; Writing; Blurb and Film Trailers.
Each section has a short introduction, discussion topics and a writing project.
"The Own Goal resource is fabulous. Thank you very much for that. We are reading Own Goal as a class reader and the boys love it." University College School
Literacy resources for all my other books are here.
Real Reader Reviews
"I'm Jake and I think your Foul Play Books are amazing and they completely blew my mind away especially the latest one, Own Goal" Jake (Wickwar Wanderers FC U12 Forward)
"I enjoy reading your books, one because I am a footballer and enjoy watching football and reading about it. And also because the way you describe feelings and situations and build it up when its a scary situation" Liam, Oxon
"I Have Read Own Goal And It Is Fantastic. When I Was Reading The Story It Was Like I Just Dropped In With Danny! I Thought The Book Was Fantastic." Lewis, South Shields
"I thought that FOUL PLAY 5: OWN GOAL was one of the best books I've read. It combines two genres, Football and crime solving, which most authers struggle to do. Therefore, it makes it a very addicting and very unpredictable book. Another reason I like the book is because it is all realistic. No aliens, no talking animals, nothing that I find hard to believe or get into. The third and final reason I like this book is because it has taught me a lot of great writing skills, that are very useful when it comes to writing my own stuff.  I would give this book 5 stars because it combines two genres, and it's an all rounder!" Jordan
Tell me here what you thought about Own Goal.
Buy Books
Signed and dedicated copies of all my books are available personalised to order from my local independent children's bookshop "The Thoughtful Spot"here.
Foul Play 1 Amazon
Foul Play 2 :  Dead Ball Amazon
Foul Play 3 : Off Side Amazon
Foul Play 4 : Killer Pass  Amazon
Foul Play 5 : Own Goal  Amazon
Set Amazon
Email me here what you thought about Foul Play and for more information about my books or use my contact form here.
PRIVACY & COOKIES POLICY                            TERMS & CONDITIONS