I am the author of fifty seven children's books including three Puffin football series, Football Academy, Foul Play and The Squad and the new Roy and Rocky of the Rovers series.  Several of my Barrington Stoke children's books link football to history in Over the Line (WW1), Secret FC (Medieval), Defenders series (Anglo Saxons, Romans and Vikings) and the Wings series (WW1, WW2 and today).
I hope these free Literacy Resources to accompany my football books are useful to help promote reading for pleasure through the excitement of football.
Certificates
I have certificates I can sign for readers of all my football books.  Tell me here if you've read the whole series and you can receive a special signed certificate.
Football Academy
Foul Play
Roy and Rocky of the Rovers
Defenders
Wings
---
Read first chapters by clicking on the covers below:
---
Football Readers Pack
Includes six posters with new ideas to encourage reluctant readers to read for pleasure, featuring real reading boys from across Britain, Ireland and Australia. Based on the Football Academy series.
Download here .
"WOW! It's brilliant.  Our boys will love it" Librarian, QEGS
"I think pupils in the academy will definitely love it " Librarian, Oldknow Academy
---
Quizzes and films
---
Over the Line Videos and other resources :
Take the quiz on video 1 here.
Video 2 : watch me read from Over the Line chapter 1
Video 3 : The Channel

Take the quiz on video 3 here.
Video 4: Inside a Trench

Take the quiz on video 4 here.
Video 5 : Delville Wood

Take the quiz on video 5 here.
Video 6 : Sid Wheelhouse's Grave
Take the quiz on video 6 here.
Video 7 : The Flanders Cup
Take the quiz on video 7 here
Test
your knowledge of
Over the Line
with the 20 questions quiz
here.
Act a scene from Over the Line with playscripts here.
Chat about the themes in Over the Line with the classroom discussion guide here. 
---
Free Stories
Read my short story Call of Duty about a famous footballer today having to go to war here.  (This was written to accompany Over the Line – about a footballer volunteering to fight in the First World War. )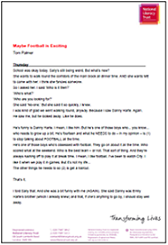 Read "The Scout " – How Ronan and Connor from the Football Academy series came to join Premier League United here.
It is a free story written for the National Literacy Trust.
The Character Strikes Back

A five-part Foul Play short story for Years 4, 5 and 6.
"We are reading 'The Character Strikes Back' this week, and SO enjoying it! They love the cliffhangers each day and beg me to read on…"
"Reading Tom Palmer's short story 'The Character Strikes Back' to my Y3/4 class was as delightful an experience for me as a teacher as it was for my young listeners, who truly learned the meaning of a 'cliff-hanger'. Writhing in a delightful agony of suspense and anticipation at the end of each day, their desperation to find out what happened next informed many discussions and some marvellous predictions. Parents even called the school to find where they could buy the book their children couldn't stop talking about!" Catherine Monaghan, Y3/4 Teacher, Middleham CE VA School
---
Roy and Rocky of the Rovers
Watch Rocky & Roy's whistlestop tour of 5 football clubs – do they visit your team?
Roy and Rocky of the Rovers Writing Kit.  A set of eight activities designed to engage football fans with different aspects of writing using passion for the game as a way in.  Free download from here.
Young Carers Powerpoint – Roy has to fit his school life and training around acting as young carer for his dad whilst his mum works to support the family.  This powerpoint explores the role of young carers. Suitable for literacy / phse here.
Prose & Comic worksheet
Using Comics to develop writing skills
here 
Colouring
Sharp-shooter Rocky is testing her brother Roy's goal-keeping skills. Can you add a crowd or maybe some more players and colour them all in here?
A picture of Roy to colour in and design a new football kit for Melchester Rovers here.
Learn to draw Rocky with Lisa Henke here.
---
More Literacy resources for all my other books are here.
Signed and dedicated copies of all my books are available personalised to order from my local independent children's bookshop "The Thoughtful Spot"  here.