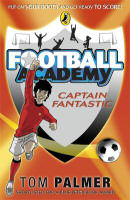 Book 6 in the Football Academy series.
Ryan Flynn is Captain of the United under-twelves.  He's had a difficult time at home and because of his bad behaviour he has been in some trouble with his team mates.
Now he has grown up.  He has realised that to be the captain, he has to support his team mates, not boss them around.
But then he faces his biggest challenge. His team-mate Craig is having huge problems at home.  But he isn't telling anyone about it.  Can Ryan help him and live up to the name… Captain Fantastic?
Read the first chapter of Captain Fantastic here.
Watch me read from Captain Fantastic  and ask quiz questions here.
Find out more about the other books in the Football Academy series here.
Available from your local library, bookshops, Amazon and Kindle.
Published by Puffin Books.
NEW Kindle Football Academy book
Starting at just 99p this summer.
Football Academy : Teamwork is the prequel to my 100,000 selling Football Academy series, published by Puffin.
Read it now here 
Player Profile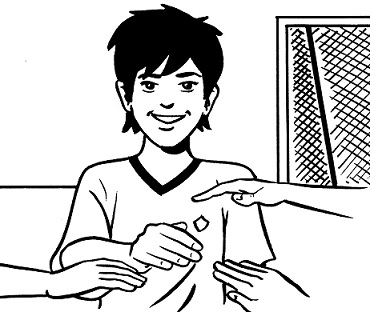 Name: Ryan Flynn
Age: 11
Supports: United
A big thank you Connor Burgess for sending us your fantastic book review!
Interview with Tom Palmer about writing Captain Fantastic

Why did you choose to write about a boy with a father in jail?
I work in a lot of schools where I sometimes meet boys whose dads are in prison. Also, I have worked in prison. It is a terrible strain on a family and I wanted to explore its impact in a story.
Why is it that Ryan starts the series as a bully and ends it as a really nice person?
People change. I think that is what I was trying to show. Although he is mean at the start, he learns a few tough lessons. The biggest is how to cope with his mum who is more interested in her Play Station than her son.
Links
Action for Prisoners's Families have produced a great resource list for families of prisoners and offenders here.

Real Reader Reviews of Captain Fantastic
"We have used Captain Fantastic to support a young boy whose dad is in prison." Kathy Jenkins, Deputy Manager, Essex School Library Service
"It is so good to have books for children and young people to help them to cope with what is happening in their lives. I particularly like the way you explore feelings and how feelings affect behaviour. I think you got over very well the value of peer support and how being with someone else affected by imprisonment helps. I thought Craig's visit conveyed very well the highly charged atmosphere of a visit to a loved one in prison where nothing much is said and children come away feeling sad and powerless." Kathy Joyce, Ormiston Children & Families Trust, Chelmsford Prison
Tell me here what you thought about Captain Fantastic.
Buy Books
Football Academy 6: Captain Fantastic Amazon
Email me here for more information or use my contact form here.
PRIVACY & COOKIES POLICY                            TERMS & CONDITIONS