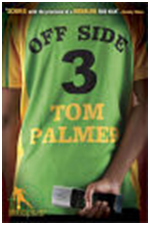 Book 3 in the Foul Play series.
Kofi Danquah is a brilliant young footballer, from a family of cocoa bean farmers, based in Ghana. The story begins with him being offered a place to play for a Premier League team in England.  But when he reaches the UK, all is not as he expected.In a chance meeting he comes across Danny Harte, the football detective. Danny tries to help Kofi.  But things get worse.  Much worse.  And Kofi is left to wonder if he'd have been better off without Danny's help, as Danny goes deeper into the football underworld than he has ever been to try and save Kofi, Holt and himself.
Read the first chapter here.
Watch me read from Off Side and ask quiz questions here.
Find out more about the other books in the Foul Play series here.
Signed and dedicated copies of all my books are available personalised to order from my local independent children's bookshop "The Thoughtful Spot"here.
Available from your local library, bookshops, Amazon, and Kindle.
Published by Puffin Books.
Fairtrade Fortnight 2023
Avirtual event, free school resources and a competition here to mark  Fairtrade Fortnight 27th February – Sunday 12th March 2023 here.
NEW Foul Play Kindle exclusive book
Starting at just 99p this summer.
Foul Play : The Danger Academy
Bismark Boateng, the player who I met and based my character Kofi Danquah on, is now on the books of Manchester City and is currently on loan in Norway !
Read more here.

Awards
2011 Foul Play 3 : Offside shortlisted for Calderdale Children's Book of the Year Awards
Literacy Resources
Kindly shared by Ms Lee, Glenlee Primary
'Scanning' – Hunt the Text based on p82-100 here
True or False based on p101-120 here
Fair Trade Resources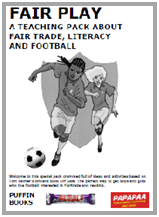 Read my diary from my trip to Ghana with Divine chocolate here.
Learn about Fair trade, football and literacy with my Fair Play pack, based on my research trip to Ghana to write Foul Play 3 : Offside here.
Read my blog about Fairtrade Fortnight here.
Literacy resources for all my other books are here.
If you are interested in football and Fair Trade there are lots of great resources here: www.fairtradeinfootball.com  and here https://schools.fairtrade.org.uk/resource/football/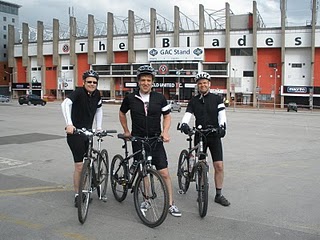 Read about my fundraising cycle ride from Sheffield to London in 2010 to put books on the shelves of a new library in Ghana through Right to Dream in my blog.
"Anton Holt" interviews Tom Palmer about writing Offside
Why did you write about an African footballer?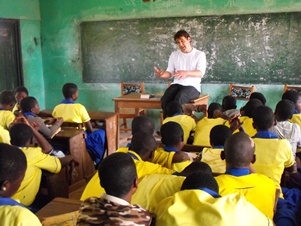 I'd read a lot about how young players from Ghana and the Ivory Coast get cheated when they come to play in France and Belgium. I wondered what would happen if the same thing went on in the UK.
So you went to Ghana?
I did. It was amazing. I saw football games, watched a youth academy team and spent time with Man U's scout for Africa. It was awesome. I also saw some cocoa farms. Chocolate is a big part of the book.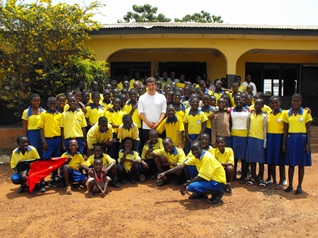 And does it tie in to the 2010 World Cup, in Africa for the first time?It does. I wanted to celebrate that too. It is great that Africa has the tournament at last. The continent's teams have been wonderful to watch over the last few years. Cameroon. Senegal. And I think, in 2010, Ghana will be good to watch.
What age is it suitable for?  Off Side is perfect for Y5.  The Foul Play books are all 9+.
Real Reader Reviews
"This sporting crime thriller is the third in Tom Palmer's football series.  With a plot involving a foreign buy-out of City FC and a corrupt agent, this is a cracking read for lads who love their football. "Sunday Express
"Danny and his friends Paul and Charlotte live in an unnamed British City and are all enthusiastic followers of their football club, City F.C. Kofi grows up thousands of miles away in the Ghanaian city of Kumasi. When Kofi, a promising footballer, is brought to City F.C. under false pretences by a cheating football agent, the lives of the four youngsters intertwine. Will Danny, Paul and Charlotte be able to save their much-loved football club from a hostile takeover? And will Kofi be accepted by City F.C. and manage to fulfil the burning hopes his family have for him? This is more than just a fast-paced novel about football. It is a novel which touches on many important subjects – injustice and poverty, friendship and dreams, relationships between different countries, corporate business and people power. This novel is so good all children should read it, not just young football fans!"Sebastian Westwood, Redhouse Book kids reviewer
"I was asked to review this by Sarah at book rabbit ,she knows i love football so said yes have also been looking for a young adult to read and this was perfect i sat and read it in a few hours ,what tom has done is wonderfully summed up major concerns in world football for kids with out talking down to them ,this book should be given to any young boy that likes football but not reading it is vibrant and gives people a view in to the darker side of football .there is also the undercurrent of fairtrade to get kids think about where things come from .a lovely book this is out this month from puffin ." http://winstonsdad.wordpress.com/2010/05/06/off-side-by-tom-palmer/ 
"Full of drama, this is a fast moving crime thriller of football, corruption and clever detective work. Danny Harte is a passionate City FC football fan. He is also a very keen detective. With rumours flying around that City FC is up for sale, Danny sets about trying to find out what is going on. His sleuthing leads him to find Kofi, a young player from Ghana who has been duped by a crooked agent. Helped by a local journalist, Danny sets about setting things right but, in doing so, he finds himself in the greatest danger!" Julia Eccleshare www.lovereading4kids.co.uk/book/5378/Foul-Play-Off-Side-by-Tom-Palmer.html
"This is the third book in the Off Side series by Tom Palmer, who knows just what's needed to get children, especially boys, reading. A combination of footballer's passion, detective work and the game itself make this a winner. " http://www.hearditintheplayground.com/readingzone-reviews-5610/
 "It took me about 2 days to read this book; mainly because I never stopped! If you gave me 1000 years to find a book of this standard, I couldn't. 🙂 WOW " Lewis
Tell me here what you thought about Off Side.
Buy Books
Signed and dedicated copies of all my books are available personalised to order from my local independent children's bookshop "The Thoughtful Spot" here.
Foul Play 1 Amazon
Foul Play 2 :  Dead Ball Amazon
Foul Play 3 : Off Side Amazon
Foul Play 4 : Killer Pass  Amazon
Foul Play 5 : Own Goal  Amazon
Set Amazon
Email me here what you thought about Foul Play and for more information about my books or use my contact form here.