Lily is a kind and friendly girl. When people meet her they love her. But, when it comes to it, she is tougher than any of the others in the Squad. She is a very good runner, having been trained by her father to run in the hills of Yorkshire since she was six. Although she is not one of the leaders, she is always listened to by those who do lead. She speaks several languages and is very bright. Lily is a right back in the team.

Hatty is very different to Lily. She is hard and uncompromising. She pushes the other Squad members to make sure they do what she thinks is right. She comes across as mean. She doesn't trust outsiders. Most of the time this is useful, but sometimes it is dangerous. Hatty finds it hard to understand Lily, but, secretly, she envies her friendliness and gentler nature. Hatty is a central defender.

Lesh is the technical wizard of the Squad. He can use gadgets and is skilled in hacking into computer systems to find things out to help the Squad on their missions. He was born in Poland, but has lived with his parents in England for several years. Lesh has a very dramatic time in Black Op, meaning his role in the second book – White Fear – is very different. Lesh is a left back.

Kester is the leader of the Squad. But he relies a lot on Hatty for support. At the beginning of Black Op the Squad's leaders have to choose between Kester and Hatty. The fact that Kester was chosen still remains unresolved during the book. Under pressure, Kester shows great leadership qualities when they Squad are under great pressure. He is a central defender, alongside Hatty.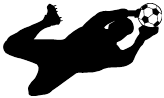 Adnan is the joker of the pack. When he is feeling tense he tries to make everyone laugh. Sometimes it works: sometimes is doesn't. Adnan is a loyal member of the Squad and would do anything for anyone. He is a very experienced at outdoor activities and often takes the lead on missions in the wild. Adnan is a goal keeper. He also hates football.