Use these resources to help explore themes in my books linking to lots of PHSE topics :
Young Carers in Roy of the Rovers
Tom says "When I was young, my dad had the same condition as Roy's dad. A brain tumour. An operation that paralysed him. A zip-like scar on his skull.  The next few months were tough. He was a big man. My mum needed me to help get him to the toilet, up and down the stairs and out to hospital appointments. He couldn't speak, so it was difficult to know how to help him.  I wrote about Roy and his dad because I wanted to show how hard those months were. At the time I thought we were the only family going through this. Unfortunately young people being carers is common and I hoped writing this story would reach those families to let them know they are not alone."
Powerpoint – Roy has to fit his school life and training around acting as young carer for his dad whilst his mum works to support the family.  This powerpoint explores the role of young carers. Suitable for literacy / phse here.
Dementia in Armistice Runner
Tom says "Today's grandparents are often portrayed in books as retired, cosy and very much hands-on with their grandchildren.  Sadly, many more families today are coping with the heartbreaking affect dementia has on their older loved ones. In Armistice Runner, I tried to capture the impact this has through Lily's warm relationship with her ailing gran." 
Fair Trade in Off Side
Tom says "Off Side is about a sixteen year old son of a cocoa farmer who is trafficked from Ghana to England, thinking he is going to be a famous footballer.  
Having seen at first hand the difference it makes, I try to choose Fair Trade where I can."
More here Buy here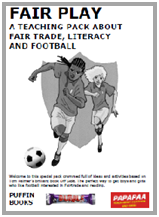 Fair Play teaching pack about Fair trade, football and literacy, based on my research trip to Ghana to write Foul Play 3 : Offside, is available free to download by clicking here.
Read my diary from my trip to Ghana with Divine chocolate here.
Protecting the environment in White Fear
Tom says "White Fear was inspired by reports I read in newspapers about how quickly the Arctic ice is melting – and the numerous predicted catastrophes."
The Squad have been summoned to the deadly and frozen land of the Arctic Circle by the British Prime Minister who has heard of their growing reputation as brilliant young spies.  An unknown criminal is trying to hijack a world conference about the precious and much fought-over fuels that lie below the arctic ice.   To prevent an international war breaking out, Lily, Lesh, Hatty, Adnan and Kester go undercover to find out who it is and stop them.
More here Buy Here
Refugees
Football Academy themes
1 Boys United – 
2 Striking Out –
3 The Real Thing –
4 Reading the Game – dyslexia
5 Free Kick – 
6 Captain Fantastic – 
More here Buy here
Geography
Email me here for more information or use my contact form here.
Visit my 
 Bookshop   Thank you.
PRIVACY & COOKIES POLICY                            TERMS & CONDITIONS