It's always great to know what readers think of my books.  So if you'd like to send me a book review, I'll post it on my website here!
If you like talking about books, maybe you'd enjoy going to a children's book group.  Find out if there's one near you here: 
You can tell me here what you think of my books.
"Further to our earlier Twitter exchange, my 9 year old son William has just finished reading the first of your Rugby Academy Series – Combat Zone. As someone who has found reading books from cover to cover somewhat of a challenge, it has been wonderful to watch him devour each and every page and to listen to him confidently reading out aloud to us the parts of the book he has particularly enjoyed. As a keen rugby player, your book has certainly managed to capture his interest and enthusiasm and he is now keen to find out how the rest of the story unfolds!  Thank you again!"  L Hibberdine Feb 2016
"I have read up to page 15 of your book Scrum! and I am totally loving it right now. I got this book at 6.30 tonight and I've only put it down to email you. My best part so far is…
'Steven walked out of his street, across the main road, onto the sports field and over to the rugby posts. He could kick some goals.No one would be there – it was almost dark now. Thirty yards out he made a hole in the grass with the heel of his boot. Then he stood the ball in it. He stepped back one,two,three long steps. The stretch in the back of his legs felt good. Two steps to the side. Just like Jonny Wilkinson.'
Yours sincerely, Sam Missin, your reader. "
"Read all the books from the Foul Play Series and thought it was a brilliant series and I can't wait to read The Squad and Scrum. I would rate the series ten out of ten." Aodhan, County Down
"I Have Read Own Goal And It Is Fantastic. When I Was Reading The Story It Was Like I Just Dropped In With Danny! I Thought The Book Was Fantastic." Lewis, South Shields
"I thought that FOUL PLAY 5: OWN GOAL was one of the best books I've read. It combines two genres, Football and crime solving, which most authers struggle to do. Therefore, it makes it a very addicting and very unpredictable book. Another reason I like the book is because it is all realistic. No aliens, no talking animals, nothing that I find hard to believe or get into. The third and final reason I like this book is because it has taught me a lot of great writing skills, that are very useful when it comes to writing my own stuff. I would give this book 5 stars because it combines two genres, and it's an all rounder! " Jordan
"I love reading Foul Play. It is the best book I have ever read" Emma
"As a parent, I just wanted to say thanks for the Football Academy series. My 10 year old son had never read a whole book from start to finish until he discovered Boys United. He rattled through that so I bought Striking Out two days ago and he's nearly finished it already. Roll on the rest of the series!" Sarah
"I find it quite amusing that I do not have ANY interest in the game of football, and yet I really love reading your books. I think this is because they are so exciting and I can clearly imagine the characters and situations in the story." Alice
"I thought it was brilliant! It had me on the edge of my seat. Literally. Foul Play was written superbly and I am definitely going to buy Dead Ball." Amber
I recently visited Swinemoor Primary School with Beverley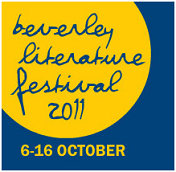 Literature Festival.  Afterwards, one of their pupils, Emily Mason, sent me a lovely report she has written all about me. Thanks Emily & keep writing.
Read Emily's fantastic report here .
What others say about my books

"one of the best football writers of our time" The Guardian
"Packed with football action and great off-field story lines, Tom Palmer's books are often cited as the reason a reluctant reader turned into a book-lover!" www.theschoolrun.com/best-kids-books-football
"an excellent fast-paced detective novel" The Times
"scores with the precision of a Ronaldo free kick" The Sunday Times (book of the week)
"Gripping and witty at the same time… quite simply the perfect soccer yarn" Robert Swindells
"Excellent" Daily Express
"Credited with turning book-phobic boys into page-turning maniacs" Sunday Telegraph
"Ideal for introducing the reluctant reader to books though sport" Scotland On Sunday
Email me here what you thought about my books  or for more information.  Or use my contact form here.