Read my recent article, Top Ten Rugby Reads for kids, for the Guardian here:
I am often asked what rugby stories I'd recommend young rugby fans to read. I thought sharing this rough list might be useful.  Other rugby books may be available, but these are the ones I know of…
The Rugby Zombies – Dan Anthony
Three books aimed slightly older, maybe Y4+. Very funny.
Rugby Spirit – Gerard Siggins
Aimed at Y4+ about a boy who joins a keen rugby school, but is a Gaelic player
Good story, includes a ghost
Scrum! – by me
Aimed at Y5/6 but with a young reading age
Rugby Academy – by me
The Flea Thing – Brian Faulkner
About a NZ boy who can run very fast. Y5+
Rugby Reviews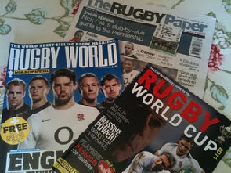 I have reviewed some rugby books and magazines on my blog: