Here is a little gallery of some of the wonderful class and home work created by children and teachers in response to D-Day Dog.  I hope they inspire you!
Writing Competition with Shakespeare Primary:
Tom came into Shakespeare Primary School and led some workshop experiences to develop language and worked with the children on their editing and uplevelling skills.
Well done to the winners of their writing competition for award-winning descriptive writing in response to the book and photos.
Mr Tee's Class winners:
Mr Feather's Class winners:
Mrs Pemberton's Class winners :
"Two fantastic days spent with Tom who gave the children a real purpose for their writing! Inspiring young minds to find a passion for creating stories and discovering that writing can be so much fun!" Mrs Pemberton, Teacher
"Tom was extremely helpful in his approach to helping our children in Year 6 work on their editing and proof-reading skills . It was great watching Tom demonstrate how he edits and improves his own writing and then seeing the pupils applying those skills to their own work" Mr Tee, Teacher 
And well done from me to everyone for all their hard work at Shakespeare Primary!
---
Inspiring Remembrance Day Black Out Poems from Howden Juniors: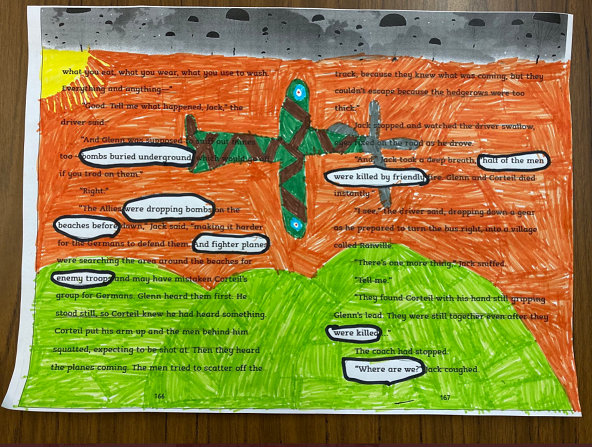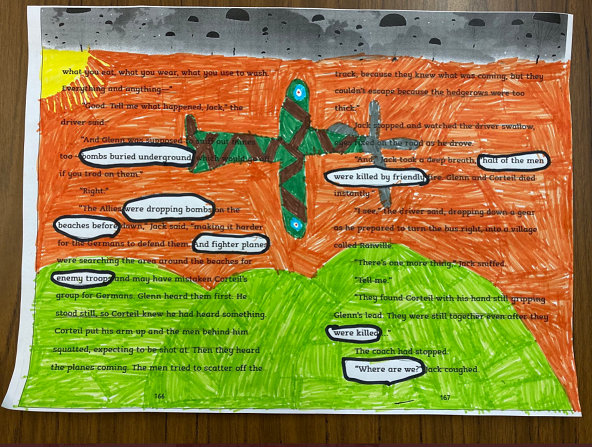 ---
Amazing display and work from pupils at Lake View Primary and Nursery School …
---
Ursuline Prep School trip to Normandy
In May 2019, Year 5 & 6 pupils from Ursuline Prep School travelled to Normandy and listened to each other reading from D-Day Dog on the very beach it is set.  They also recreated the cover.
"Both classes have thoroughly enjoyed listening/reading the book at have also enjoyed discussing some of the many themes – the D-Day landings were obviously the focus for lots of discussion.  The teacher had a conscience corridor with her class on the beach.  The book really deepened the children's understanding of the landings and their significance and added value to the trips that we made to the American and German cemeteries, the guns and beach at Longues sur Mer  and the beaches at Asnelles."  Ursuline Prep School 
Email me here for more information or use my contact form here.
Thank you.