Foul Play Films
Tom reading the first chapter https://www.youtube.com/watch?v=D_X_orVNVuU
Interview with Tom here https://www.youtube.com/watch?v=yy6gJwwZdyY&list=PLCiSf6_XvoCVlfFQnmV_pH2XS238hToQ0&index=7
Tom reading the first chapter https://www.youtube.com/watch?v=4tEQtL5BTko  with questions here … https://tompalmer.co.uk/reading-for-pleasure-comprehension-challenge-pack/
---
Free Resource packs
"Danny Harte is the Football Detective" a new Reading for Pleasure pack to accompany the Foul Play series.
Includes Anton Holt Interviews Tom Palmer, Foul Play Discussion Topics, Foul Play stories, My Own Foul Play Story, My Foul Play drawing, Book Reviews, My Book Review.
Download here.
---
Setting a story in Leeds
Click here for a handy guide to the real places that inspired scenes in Foul Play with ideas for class discussions.
"Tom Palmer is a true reading hero and has been responsible for motivating many thousands of young people to get into books" Booktrust
---
Foul Play 2 : Dead Ball resource
SPAG worksheet here
 with powerpoint here
based on  Foul Play 2 : Dead Ball – my Russian children's thriller).
---
Foul Play 3 : Offside – Fair Play Pack.
Learn about Fair trade, football and literacy, based on my research trip to Ghana to write Foul Play 3 : Offside.
Download here.
---
Foul Play 5: Own Goal – Writer's Pack
An insight into how writers write based on the book Foul Play 5 : Own Goal.   Includes : Research; Creating Characters; Themes; Writing; Blurb and Film Trailers.   Each section has a short introduction, discussion topics and a writing project. I also have certificates I can sign and dedicate for pupils who have enjoyed the pack.
Download here.
"The Own Goal resource is fabulous. Thank you very much for that. We are reading Own Goal as a class reader and the boys love it." University College School
---
Watch the film trailer made by the Football Writers group at Ghyllgrove Junior School here
Read how Ghyllgrove Junior School made a film trailer for Own Goal at Charlton Athletic FC  here.
Read teacher Diane Baker's article "Filming a Book Trailer to Engage Readers: The Ghyllgrove School Football Writers" here
"Thank you for all of the help you have given me toward my attitude to reading. Thanks to you I am a bookworm and just can't stop reading and I can't wait to read your magnificent book. You cracked me up with your italian accent when you were chasing Jack down the hallway. We couldn't have done it without you. "Joe
---
Extra on-line Foul Play stories:
Read here Danger Academy, a story written in January 2012 for the National Literacy Trust and the Premier League. It's an 8 part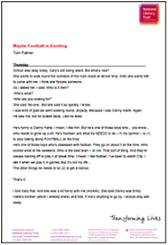 story in 5 minute chunks, written for reading aloud in classrooms, so feel free to take it into school. Otherwise, it's just for you to enjoy. (I hope.)
"The boys absolutely love The Danger Academy!" Holy Trinity Catholic Media Arts College
Read here Maybe Football is Exciting – Charlotte's Diary a Year 6,7 and 8 short story written in 2011 for the National Literacy Trust
"I just finished reading the Danny Harte story online (I read it all at once because I couldn't wait to find out what happened next) I really really enjoyed it!! Thanks" Sophie
Read here The Character Strikes Back. A five-part Foul Play short story for Years 4, 5 and 6
"We are reading 'The Character Strikes Back' this week, and SO enjoying it! They love the cliffhangers each day and beg me to read on…" Middleham School
---
World Cup 2014 News
T
o celebrate the World Cup in 2010 and 2014, The National Literacy Trust commissioned two Foul Play stories.  A very big thank you to the tens of thousands of children who listened to their teachers read the story every day in their classrooms. 
Read Foul Play : Brazil 2014 in full here.
Read Foul Play : South Africa 2010 in full here.
---
Foul Play : Six Nations
England RFU commissioned a Foul Play  : Six Nations story in 2016.
Read the full story here.
Find out more about the project here.
Thanks everyone who followed it!
---
Find out more about Foul Play …
The Puffin Foul Play series feature a fourteen-year-old boy called Danny Harte who wants to solve football crimes.   Find out about each book in the series by clicking on these covers below:
 
First chapters
Read first chapters from Foul Play by clicking on these covers below:
Foul Play
Quizes
Watch me reading and asking quiz questions by clicking on these covers below:
"The video comprehension is a brilliant idea especially with so few male reading role models in primary schools." Julie Anderson, Castor CE Primary School
Buy Books
Foul Play 1 Amazon
Foul Play 2 :  Dead Ball Amazon
Foul Play 3 : Off Side Amazon
Foul Play 4 : Killer Pass  Amazon
Foul Play 5 : Own Goal  Amazon
Set Amazon
More Literacy resources for all my other books are here.
Email me here what you thought about Foul Play and for more information about my books or use my contact form here.
PRIVACY & COOKIES POLICY                            TERMS & CONDITIONS